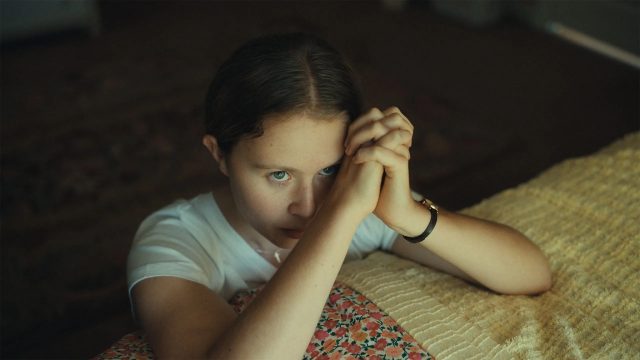 Eliza Scanlen is earning praise for her leading performance in another woman director's feature debut. She took home an Australian Academy of Cinema and Television Arts (AACTA) Award for Shannon Murphy's "Babyteeth" a few years back, and now she's getting glowing reviews for "The Starling Girl," Laurel Parmet's first feature. Deadline reports that Bleecker Street has nabbed North American rights to the coming-of-age drama following its world premiere at Sundance Film Festival last month. A theatrical release is planned for later this year.
Penned by Parmet, "The Starling Girl" tells the story of 17-year-old Jem Starling (Eliza Scanlen), "who struggles to define her place within her fundamentalist Christian community in rural Kentucky. Even her greatest joy — the church dance group — is tempered by worry that her love of dance is actually sinful, and she's caught between a burgeoning awareness of her own sexuality and an instinctive resistance to her mom's urging that the time has come to begin courting. She finds respite from her confusion in the encouragement of her youth pastor Owen (Lewis Pullman), who is likewise drawn to the blossoming Jem's attention," the source summarizes.
Scanlen's other credits include "Little Women" and "Sharp Objects."
Later this month Bleecker Street will release Frances O'Connor's feature debut, "Emily." Inspired by the life of "Wuthering Heights" author Emily Brontë, the pic is led by "Sex Education's" Emma Mackey and hits theaters February 17.