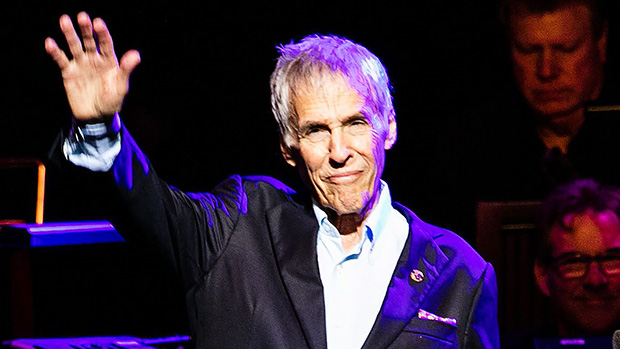 Regarded as "one of the most important composers of popular music in the second half of the 20th century," Burt Bacharach wove together elements from cool jazz, soul, and traditional pop in a prolific career that resulted in two Academy Awards, a handful of Grammys, and a legacy as a songwriter's songwriter. Sadly, that amazing life came to an end on Wednesday. Burt, at age 94, passed away of natural causes on Feb. 8, in his Long Angeles home, his publicist told USA Today.
Born in Missouri in 1928, Burt spent most of his childhood in New York. Influenced by Dizzy Gillespie and Charlie Parker, he pursued jazz and music at Montreal's McGill University, the New School for Social Research in New York, and the Mannes School of Music. His early career saw him work as an accompanist and conductor for Marlene Dietrich's nightclub act, per the Songwriters Hall of Fame. He had his first breakthrough as a songwriter with the country-rock hits "The Man Who Shot Liberty Valance" and "Only Love Can Break A Heart" for Gene Pitney.
After forming a songwriting duo in the late 1950s with Hal David (who passed away in 2012), Burt Bacharach began a long collaborative career with Dionne Warwick. Together, the three produced a string of 39 consecutive chart hits, including "Walk On By," "Don't Make Me Over," "I'll Never Fall In Love Again," "Promises, Promises," and "Message To Michael." Burt and Hal also helped write "That's What Friends Are For," a song Warwick recorded with Stevie Wonder, Elton John, and Gladys Knight and co-written with Carole Bayer Sager.
"That's What Friends Are For" won the Grammy Award for Song of the Year in 1987. Burt's work on Butch Cassidy and the Sundance Kid would win him another Grammy and a pair of Oscars: he took home the Academy Award for Best Original Song ("Raindrops Keep Fallin' On My Head") and Best Original Score.
"It's not about resting on your laurels," Burt told the San Diego Union-Tribune in 2013. "It's about writing because this is something you want to do. You always grow."
In his life, Burt was married four times: to actress Paula Stewart; to actress Angie Dickinson; to lyricist Carole Bayer Sager; and to his fourth wife, Jane Hansen, who he wed in 1993. He had four children — a daughter Nikki (with Dickinson); a son Cristopher (with Sager) and a son Oliver and a daughter Raleigh (with Hansen).
"When you have kids later on in your life, it's not so important that you get that next piece of music (written)," Burt told the San Diego Union-Tribune. "It's called: 'You've got a family, spend time with them,' which I have done."
"There are some compromises along the way, sometimes," he added when reflecting on his legacy of collaborating. "I know when I recorded ('I Say a Little Prayer') with Aretha Franklin, you kind of have to give up something to get something, so maybe (as a singer) you don't deviate from the melody until the third time through. And then, okay, it's Aretha, and the stuff she sings (extemporaneously) is wonderful. Remember, it is a song that is not a cover record; it's the first time the song will be out there. As the writer, I really want it right. It all lives and dies with me, in the (recording) studio, anyway."
Click to Subscribe to Get Our Free HollywoodLife Daily Newsletter to get the hottest celeb news.