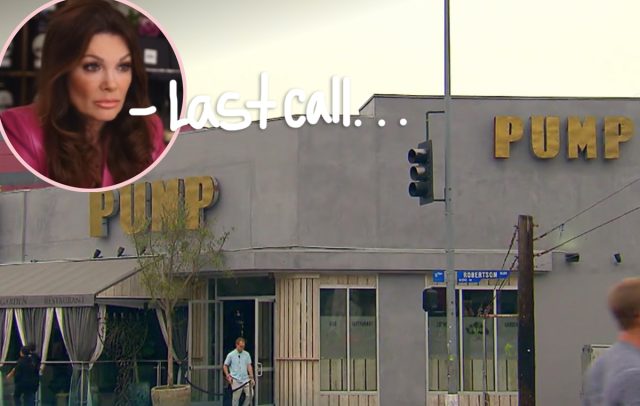 After weeks of speculation, the fate of Lisa Vanderpump's Pump Restaurant Lounge has been revealed.
Unfortunately, the eatery is shutting its doors for good after 10 years of business! The statement on Pump's Instagram Thursday read:
"It's with heavy hearts that we announce that the lease at Pump Restaurant is expiring and we will be closing its doors on July 5th, after ten years of beautiful evenings under our olive trees. As a family, we are looking to the future of the Vanderpump establishments and will be opening at least two more restaurants with Caesars Entertainment in the coming year."
Related: Scheana Rips Sandoval For The 'Game Plan' He Had To Cover Up Affair
Ugh, it's the end of an era! As for the reason why LVP is done with Pump? The family told the outlet it all comes down to the fact that the landlords drastically increased the rent this year:
"While we have loved our time operating Pump, to take on another 10-year lease with a huge increase in rent by the landlords, is not something we are ready to commit to. After successfully running 37+ establishments for many years, this type of rent is untenable."
Sources also explained to TMZ (who was first to report the closure) that Lisa and her hubby Ken Todd were not willing to pay almost $1 million in rent annually, as the couple found it to be absurd.
While this is what the couple is telling, if you ask the landlord, it's flat out untrue! They said the following to ET after the statement of the closing was revealed:
"Lisa's comments regarding the rent for Pump are not accurate. We did not raise the rent and in fact have been nothing but supportive as they tried to catch up on lease obligations including forgiving some rent during Covid."
Messy!!!
As you might know, there are still other places for VPR fans to enjoy – including SUR and TomTom. TMZ also reports that Lisa is opening two more restaurants at Caesars Palace in Las Vegas in the future:
"We will be open throughout Pride month in West Hollywood, to support the local community with one last hurrah, and we look forward to welcoming you all to TomTom & Sur in the months following! Thank you for the past decade of support, we have loved our staff, our patrons and our time together."
Welp, get your pumptinis while you can Bravo fans! Reactions to the news, Perezcious readers? Let us know in the comments below.
[Image via Vanderpump Rules/Peacock]