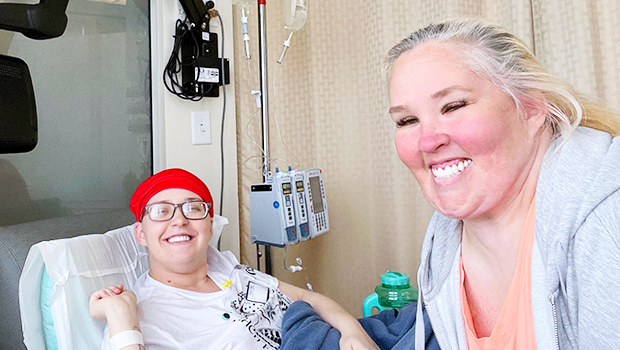 Mama June's daughter Anna "Chickadee" Cardwell, 28, gave her Instagram followers a health update after she's been going through treatment for cancer. The reality star was diagnosed with stage 4 adrenal carcinoma in Jan. and is going through her third round of chemotherapy. She shared a photo of herself smiling and wearing a blue headwrap while sitting with her boyfriend Eldridge Toney at Cracker Barrel, and added a message alongside it that revealed the treatment is working.
"Well going on to round 3 of chemo.this yesterday it was pretty good day but did get a little and Cracker Barrel was good going down but not up 😂 but over all it's going good and chemo is working we come to find so things are looking good 😇😁😁🙏," the message read.
Once it went public, many of Chickadee's followers left uplifting comments that encouraged her. "You're amazing!!!! And so strong Anna! You're always in my thoughts. Thank u for the update. We all appreciate it. And we all here cheering u on," one follower wrote. "There are a whole lot of people out here wishing you the very best," another shared. Others left heart emojis to signify their love and support.
Chickadee's health update comes after TMZ reported she was diagnosed after she went through a series of tests for stomachaches. They found cancer in her liver, kidney, and lung, according to the outlet, and underwent her first round of chemotherapy in March. She then went through a second round and is now starting her third.
In Apr., Chickadee's mom, Mama June, reunited with her and they posed for a photo during a chemo treatment. They flashed big smiles in the snapshot, which can be seen above, and Chickadee's sisters, including Alana "Honey Boo Boo" Thompson, 17, and Lauren "Pumpkin" Efird, 23, and her daughter, Kaitlyn Elizabeth, 10, also joined them. They all also posed for group photos as Chickadee sat there in her medical cap and a white T-shirt.