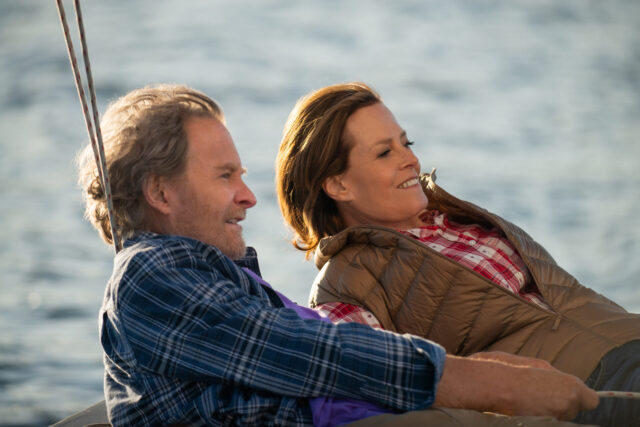 "The Good House" has secured North American distribution ahead of its world premiere at Tribeca Film Festival. Deadline reports that Lionsgate and Roadside Attractions snagged rights to Maya Forbes and Wally Wolodarsky's latest, an adaptation of Ann Leary's New York Times best-selling novel.
Led by three-time Oscar nominee Sigourney Weaver, "The Good House" tells the story of Hildy Good, "a wry New England realtor and descendant of the Salem witches, who loves her wine and her secrets. Her compartmentalized life begins to unravel as she rekindles a romance with her old high-school flame, Frank Getchell (Oscar winner Kevin Kline), and becomes dangerously entwined in one person's reckless behavior. Igniting long-buried emotions and family secrets, Hildy is propelled toward a reckoning with the one person she's been avoiding for decades: herself," the source teases.
"It was a chance to tell the story of an older woman who has agency, who is a fighter, who is funny, who has demons," Forbes told us. "There comes a time in one's life where you realize that some of the qualities that have powered you through might now be holding you back and I'm very interested in that inflection point."
The film, penned by Forbes, Wolodarsky, and Thomas Bezucha, is set to make its Tribeca debut June 18 and will hit theaters September 30.
"In a career full of spectacular performances, creating so many indelible characters, Sigourney Weaver delivers one of our absolute favorites as a New Englander who's in over her head in 'The Good House,' Maya Forbes and Wally Wolodarsky's beautiful adaptation of Ann Leary's beloved novel," said Roadside Co-Presidents Eric d'Arbeloff and Howard Cohen. "We're confident that this wryly funny and riveting movie will connect with audiences across the country, and we're thrilled to bring the film to theaters for audiences to experience this fall."
Weaver received Oscar nods for "Gorillas in the Mist: The Story of Dian Fossey," "Working Girl," and "Aliens." The "Avatar" actress' recent credits include "Call Jane" and "Ghostbusters: Afterlife."
Forbes and Wolodarsky make their feature debut with 2014's "Infinitely Polar Bear." Forbes went on to direct 2017's "The Polka King." Her writing credits include "American Crime Story" and "A Dog's Purpose."