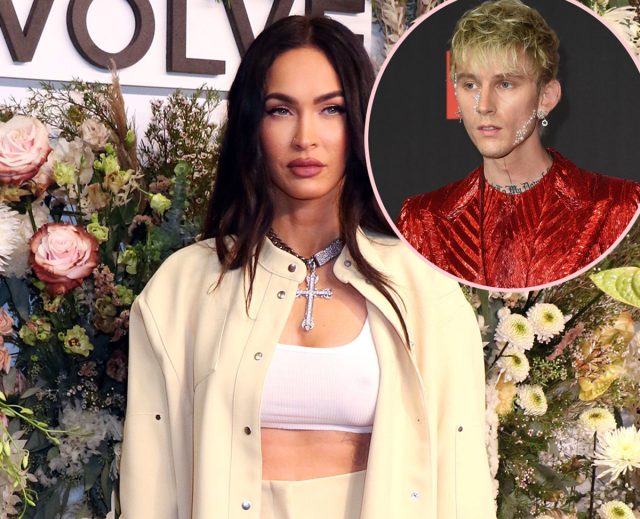 New details have come out about those Megan Fox and Machine Gun Kelly breakup rumors!
In case you haven't heard, speculation is circulating once again that the pair ended their relationship after the 36-year-old actress made a series of updates to her Instagram account in the early morning hours on Sunday – and then deleted her page entirely. Before deleting her account, though, she unfollowed MGK on Instagram and scrubbed her grid of their photos together. Megan also posted a series of pictures of herself posing in a sexy all-black outfit and a video of a bonfire burning a letter and what appeared to be a bag. The caption of the post included a line from Beyoncé's Pray You Catch Me:
"You can taste the dishonesty/ It's all over your breath."
Related: Fox News Host Julie Banderas Announced Her Divorce Live On Air!

Considering the caption was from the artist's Lemonade album about her husband JAY-Z's infidelity, many people could not help but wonder if Megan was not only revealing she and MGK broke up but that her 32-year-old fiancé had an affair with someone. And now, fans just want to know what's going on. Are they on or off right now? Did he cheat on her? Was this just Megan trolling her followers? While neither MGK nor Megan has officially addressed the situation, sources have given some insight into the hours before their rumored split.
According to Entertainment Tonight on Sunday, the two have been enjoying Super Bowl weekend and partying together "every night." In fact, an insider told the outlet that they "seemed fine" on Saturday night:
"Megan and MGK have been together all of Super Bowl weekend. They've been out at parties together every night, including last night and seemed fine."
However, the insider noted that MGK "seemed a bit off" while performing at Sports Illustrated's party:
"Last night MGK also performed at a party, but he seemed a bit off. His energy was low, and the performance wasn't great."
According to Page Six, the 32-year-old singer never mentioned Megan during the appearance nor performed Twin Flame – a song he often closes his sets with and is titled after the (maybe?) former couple's nickname for each other. An insider also told the outlet that the Jennifer's Body star actually was not with MGK when he performed on Saturday and did not join him on the red carpet for the event. They were last spotted together holding hands and leaving Drake's Super Bowl party on Friday night.
It is unknown what happened between them in a span of a day. However, the ET insider noted that their romance is filled with "lots of highs and lows" and noted that Megan "also likes to troll her fans during the more 'off' times between them for attention":
"Megan and MGK have a very intense relationship with lots of highs and lows. They have a tendency to get into arguments and then end up making up."
Hmm…
What do YOU think, Perezcious readers? Do you believe Megan is just trolling her fans with the breakup rumors? Or do you think she and MGK are really over? Sound OFF in the comments below!
[Image via MEGA/WENN, WENN/Avalon]