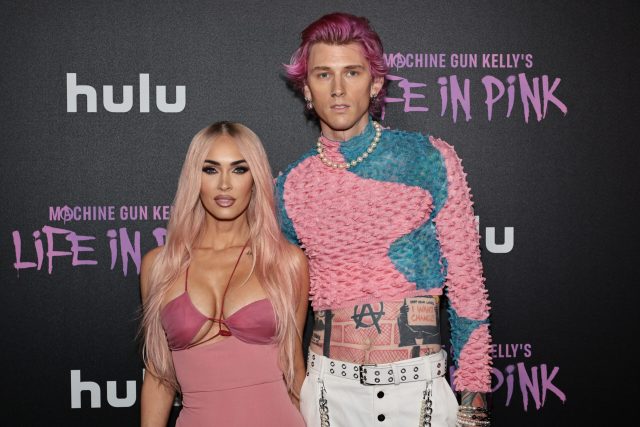 From the moment they first got together, the Megan Fox-Machine Gun Kelly relationship has been a roller coaster of public spats, breakups, make-ups, and more blood-drinking than we care to think about.
Now, however, it looks as though the ride may have finally come to a full stop.
As you likely recall, Megan and MGK broke up last month amid rumors that he had been caught cheating.
Insiders insisted that the couple had not formally ended their engagement, but had simply decided to take a break.
Now, however, it looks as though these two may have gone their separate ways on a permanent basis.
Like dozens of other A-listers, Megan attended the Vanity Fair Oscars after-party on Sunday night.
Tellingly, she did so without her former fiancé by her side.
And that wasn't the only indication that Meg and MGK are no longer an item.
For one thing, Fox brought an unidentified male companion with her.
On top of that, she spent much of the evening in the presence of Black Adam actor Noah Centineo.
"She was spending a lot of time talking to Centineo," one onlooker tells Page Six.
"She looked like the cat who ate the canary."
But perhaps the clearest sign that Fox is once again a single lady is the fact that she's no longer sporting the infamously ornate ring engagement ring that Kelly proposed with.
Kelly delighted in telling the press that the ring was designed so that it would cause Fox pain if she attempted to take it off.
Sounds like an extremely healthy relationship!
Anyway, Fox endured the discomfort long enough to send a powerful message on Sunday night.
If was the first time she'd stepped out to a major event in the weeks since she and Kelly had called it quits.
She knew there'd be an army of photographers on hand, and she chose to go ringless anyway.
This was no accident.
It might be a while before these two issue any sort of formal announcement, but it seems pretty clear that for now at least, they are not together.
And based on everything we've heard about their relationship, that's probably for the best.