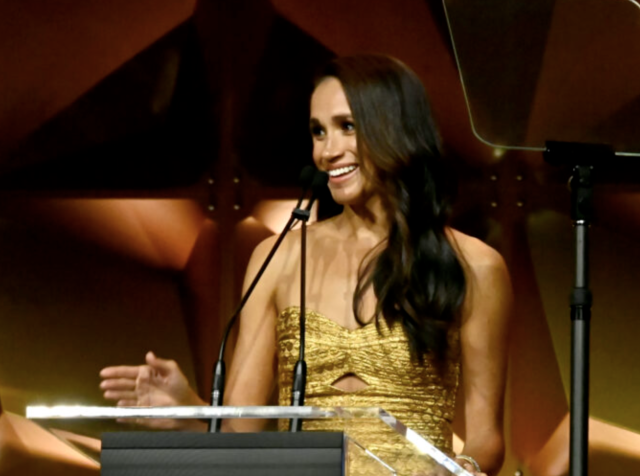 For the past few weeks, most of the top stories about the royal family have centered around the coronation of King Charles.
But now that the dust has settled from that historic snoozefest, we can get back to focusing the topics that really matter:
We're talking, of course, about feuds and fashion!
Both the British and American branches of the royal family have been even more visible than usual this week, and they've both launched dueling charm offenses with the goal of conveying to the public that they're flourishing and thriving in the Age of King Charles.
First, Kate Middleton made a surprise appearance on the Eurovision Song Contest finale, and many fans think she copied a dress that Meghan recently wore to the NAACP Image Awards.
Sussex supporters blasted Kate for the alleged act of style theft, but Meg has been so busy living her best life that she might not even be aware of the controversy.
In an appearance that makes the Eurovision cameo look downright chintzy by comparison, Meghan took the stage at the Ms. Foundation's annual gala last night, where she received a Woman of Vision Award.
Meghan thanked the organization's famous co-founder Gloria Steinem "for the inspiration that you are, for your mentorship, your sage advice, your extraordinarily cheeky sense of humor and for your incredible friendship."
"As a young girl, I would come home, I'd settle in after a day of school, pull up my TV tray with dinner and I would turn on my evening ritual," the Duchess of Sussex recalled in her acceptance speech.
"Jeopardy! And I'd glance at the coffee table, where I'd see an array of things: it could be the cat's collar, my homework, some mail that had just been brought in — and some magazines. The magazines said Ms. on them."
Meghan was joined at the ceremony by both her husband, Prince Harry, and her mother, Doria Ragland, who rarely makes public appearances.
It was fitting, then, that Meg addressed the importance of her upbringing, during which she was exposed to content — such as Ms. magazine — that made her believe she was capable of anything.
"I remember them vividly because the pictures were different. There was diversity that I hadn't seen as often, both of color and of age and the names were different," Meghan told the audience.
"There were congresswomen, there were astronauts and the topics were different — from mothering to being a working mom to heavier topics such as domestic violence, the poverty line, unearthing its roots, where it comes from and matters of equity," she continued.
"I was too young at the time to know what most of it meant," Meghan said, noting that despite her youth and inexperience, "the significance of these magazines was important."
Obviously, it was a tremendous honor for Meghan to receive such an award, especially given the influence that Ms. Steinem and her work has had upon the duchess' life.
And it would be petty to discuss an honor in the context of Meghan's ongoing feud with the royal family.
But "gossip" is in our name, and petty is our game, so while Meg might be too classy to boast, we're happy to do it on her behalf!
You know the royals have their knickers in a twist over the idea of Meghan receiving an actual, meaningful award while they're still playing around with their stodgy ceremonies and exchanging meaningless, self-appointed titles!
Charles finally got crowned; Kate played the piano on TV, and Meghan casually upstaged them both just days later!
Again, Meghan's probably not thinking about things in these terms, but the rest of the world is — and that includes the duchess' bitter rivals!
J