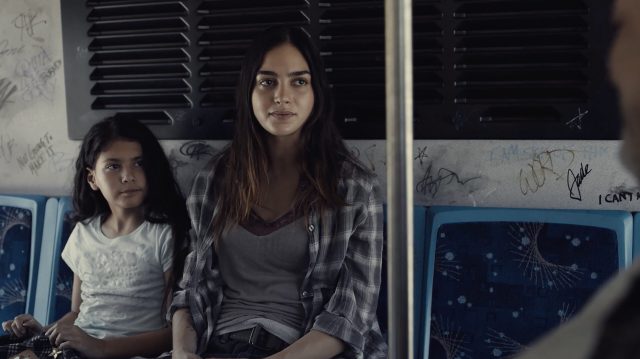 Melissa Barrera is switching gears from squaring off against Ghostface to fighting personal demons. The "Scream" actress leads "All the World is Sleeping," an addiction drama that just scored North American distribution from Gravitas Ventures. Deadline broke the news. 
Set to hit theaters and on demand March 17, the pic follows Chama (Barrera), "who as a young girl in New Mexico, strived to be different from her mother. Now in her twenties, she's found herself falling into a similar cycle of generational addiction. This struggle then threatens her balance as a mother to her own daughter. As Chama tries to keep it all together, a harrowing accident will spiral her out of control, causing her daughter to be taken from her custody. With nothing left, she'll have to confront her past in order to fight for a future — one that can either guide her closer to getting her daughter back or lead her deeper into this dangerous cycle," the source teases.
"This film is not only based on the lived experiences of seven women with a history of addiction, it was made by them. Through a unique collaboration with the non-profit Bold Futures, their stories and input shaped this film throughout its development and production," the film's director, Ryan Lacen, told Deadline.
Danielle Gasher, Gravitas' Senior Director of Acquisitions, added, "We are thrilled to be bringing 'All the World is Sleeping' to theaters and homes this upcoming March. Melissa Barrera delivers an incredible performance as a young mother battling addiction. We are proud to be the North American partner for such a hard-hitting drama."
Jade Sanchez, Doralee Urban, Myra Salazar, Patricia Marez, Carly Hicks, Kayleigh Smith, and Malissa Trujillo are credited with  the film's story.
"In the Heights" and "Vida" are among Barrera's other credits. She'll reprise her role as Sam Carpenter in "Scream IV," set to bow March 10.