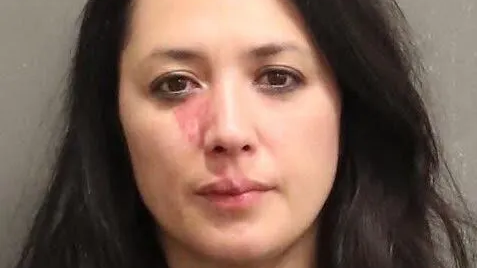 Michelle Branch has been a Millennial music icon for two decades.
She has had a very busy end to the week.
The singer tweeted and deleted an accusation that her husband cheated. She announced their split.
Then she was arrested and charged with domestic assault. Oh dear.
On Thursday, August 11, authorities arrested Michelle Branch and then charged her with domestic assault.
The arrest took place shortly after her announcement about breaking up with her husband.
Patrick Carney is also a musician. He is a drummer for the Black Keys.
The arrest went down in Nashville, Tennessee.
Police confirmed the arrest to various outlets.
Michelle's bond was just $1,000. Her next court appearance will be on November 7.
According to police reports, Branch admitted to having slapped Carney.
TMZ specified that Branch allegedly told police that she had slapped her husband "one to two times."
Officers on the scene described Carney as lacking any "visible injuries."
"Just found out my husband cheated on me with his manager, Haley McDonald," Branch tweeted on Thursday.
According to her tweet, he did his cheating "while I was home with our 6 month old daughter." A shrugging emoji followed her words.
There is no good time to find out that your spouse is cheating. But some moments sting more than others.
Michelle Branch also released a statement to various outlets following that now-deleted tweet.
"To say that I am totally devastated doesn't even come close to describing how I feel," she expressed.
Branch emphasized that this is how she feels "for myself and for my family."
"The rug has been completely pulled from underneath me," Branch then characterized.
"And now," she announced, "I must figure out how to move forward."
Branch then issued a request: "With such small children, I ask for privacy and kindness."
Suffice it to say that, as serious as domestic violence is, social media is pretty solidly Team Michelle Branch.
Part of it is that she is a beloved music icon, one who makes many nostalgic for their teens.
Others have noted that there is some nuance to domestic battery.
No one should hit each other, least of all their partners. Yes, even if one party cheated.
That said, we can grudgingly acknowledge that real life breakups are messy, and that this involved no bodily harm.
We do not condone this or any other partner violence, big or small.
But we can understand why so many are willing to crack jokes at the moment.
Branch and Carney married three years ago, in 2019, and share two young children.
This is a obviously distressing situation from start to finish.