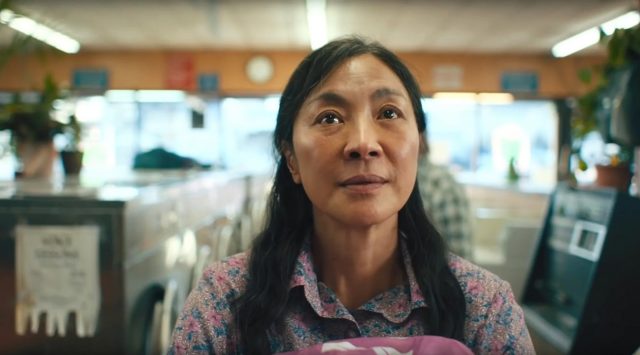 Michelle Yeoh is making history at the Toronto International Film Festival. The "Everything Everywhere All At Once" star has been named as the inaugural recipient of the TIFF Share Her Journey Award, which "recognizes a woman who is a leader in the film industry and has made a positive impact for women throughout their career," per a press release. The award is inspired by TIFF's Share Her Journey initiative, "which was created to address gender parity in the film industry, to champion women at every stage of their creative journey, and to shine a spotlight on women creators making a significant difference in the industry."
"Michelle Yeoh is the definition of groundbreaking," said TIFF CEO Cameron Bailey. "Her screen work has spanned continents, genres, and decades. This year she delivered a performance in 'Everything Everywhere All at Once' that shows her limitless abilities. We're so proud to honor her with the Share Her Journey Groundbreaker Award."
Yeoh's career, which spans nearly 40 years, includes hits such as "Crouching Tiger, Hidden Dragon," "Crazy Rich Asians," and "Guardians of the Galaxy Vol. 2." "Avatar: The Way of Water" and "The Witcher: Blood Origin" are among her upcoming projects.
Way back in 2000, Yeoh was asked about "Crouching Tiger, Hidden Dragon" being called a "feminist martial arts film" and about the role women played in the pic. "If you read a lot of Chinese literature, there has always been very strong women figures — warriors, swordswomen — who defended honor and loyalty with the men. So it's not new to our culture, it's always been very much a part of it," she explained. "It's good that now the Western audience would have a different image of the Chinese women. Where for a while, it was very stereotypical — the demure, very quiet, strong in a very silent way."
Other TIFF honorees this year include Egyptian filmmaker and screenwriter Sally El Hosaini and Academy Award-winning Icelandic artist and composer Hildur Guðnadóttir. The former is being celebrated with the TIFF Emerging Talent Award and the latter with the Variety Artisan Award.
TIFF runs September 8-18.