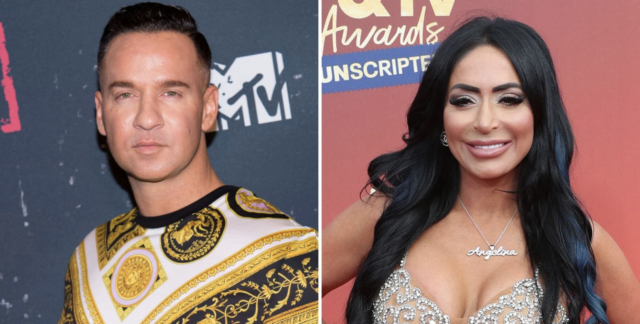 Back in February, Chris Larangeira filed for divorce from Angelina Pivarnick.
Now, anyone who watched the couple's disastrous wedding on Jersey Shore knows that this marriage was troubled from the very beginning.
But the cause of the split — and the fact that it was Chris who filed — still came as a surprise.
Larangeira cited "irreconcilable differences which have caused that breakdown of the marriage for a period of at least six months" in his filing.
But that wasn't the whole story.
It seems that Angelina had cheated on Chris rather extensively over the course of their time together.
In fact, her infidelity was so rampant that she got caught when she cheated on her side-piece!
According to sources close to the situation, Angelina dated another man on the side for a full two years.
That boyfriend became upset when he learned that Angeliners hooked up with a different guy while she was in Europe filming a Shore spinoff.
Most of the drama played out off camera, but it seems that the current season of Shore will feature some explosive scenes centering around the end of Pivarnick's marriage.
One preview clip showed Mike "The Situation" Sorrentino calling Angelina out over allegations that she had been unfaithful to Chris.
Mike is a much more mellow presence on the show than he used to be, but he did not mince words in this … um, situation.
Sorrentino flat-out referred to Pivarnick as a "cheater" during their conversation.
He later went into specifics, accusing Angelina of having "multiple side pieces"
In a recent interview with In Touch, Mike noted that upcoming episodes will feature some heated confrontations between the roommates.
"This season is definitely a lot messier than I would like," he told the outlet.
"But at the same time, if anyone in the group's decisions start to bleed into our life and make our life messy, that's when I'm gonna call you out."
Yes, these days Mike has taken on a sort of elder-guido role, appointing himself the unofficial protector of both the de facto Shore family and the franchise which has made the entire cast rich and famous.
Angelina, of course, is sort of an outsider in the group, having quit and gone home twice in the series' early days.
But fans and roommates alike have warmed to her in recent years, and she says it's all because she doesn't hold anything back.
"I feel like I'm an open book and I'm happy to be that because, if I wasn't an open book, I wouldn't be my most authentic self," she recently told In Touch.
Unfortunately, Angelina was not so straightforward in her dealings with Chris.
The couple knew each other for 14 years before they got engaged, but it seems that Chris never imagined that Angelina was capable of cheating.
"I didn't wanna share a post cause I didn't want anyone thinking I still care," Larangeira recently wrote on Instagram, referencing a song by Justin Bieber.
"I don't but, you still hit my phone up."
Sounds like this split was anything but amicable!