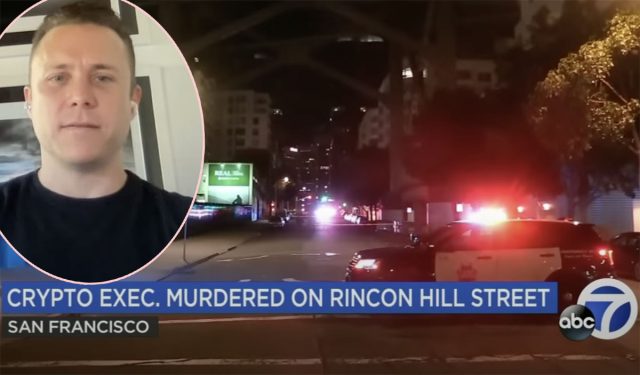 [Warning: Potentially Triggering Content]
New details are coming in about the tragic stabbing death of Cash App co-founder Bob Lee.
As we reported on Wednesday, the 43-year-old tech executive was stabbed to death on a street in San Francisco. The stabbing, which took place very early in the morning on Tuesday, was apparently not witnessed by anyone else. Police have not revealed any persons of interest in the murder, and there are no known leads.
Related: Murder Suspect Found Stabbed To Death — Allegedly By The Victim's Son!
Now, though, security camera footage is starting to come in. According the San Francisco Standard, surveillance footage from the street where Lee was stabbed appeared to show him wounded and staggering for help moments before his death.
Per that outlet, the MobileCoin executive was seen stumbling down the street after the altercation. He seemed to be clutching his body with one hand while holding his cell phone with the other. The street was desolate, as the incident occurred around 2:30 a.m. local time.
Then, Lee is reportedly seen approaching a Toyota Camry. The driver put the car's hazard lights on as Lee appeared to lift up his shirt to show his stab wounds to the car's occupants. The car then sped away as Lee continued staggering down the street.
Several moments later, Lee was seen falling down. He got himself back up, walked further down the road, and then collapsed again. Somehow, he managed to call 911 while suffering the wounds. He could be heard screaming a chilling refrain before falling unconscious in the street:
"Help! Someone stabbed me!"
OMG…
Cops rushed to the scene at that point, and Lee was taken to a hospital. Sadly, the stab wounds were too much to overcome, and he died while under medical care.
Per TMZ and others, and as we noted up top, cops still haven't released a motive for the murder or any other details. Authorities have confirmed Lee was stabbed "twice in the chest by an unknown assailant," but that's about it.
Here is more on the ongoing investigation and the apparent surveillance footage existence:
Such an awful situation.
We continue to send our love and condolences to Lee's family, friends, and loved ones.