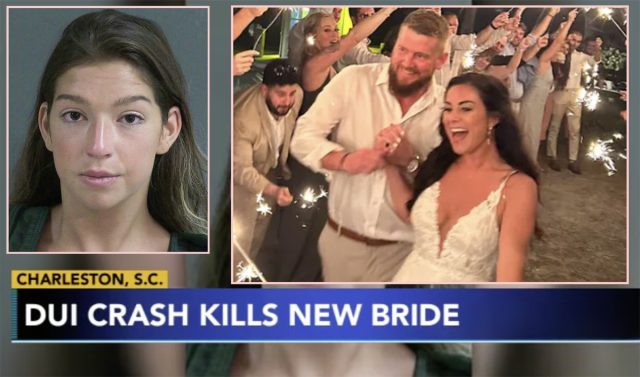 [Warning: Potentially Triggering Content]
A newlywed bride has died and her husband of only a few hours has been severely injured after a golf cart they were riding in was struck by a car on a street in Folly Beach, South Carolina.
Samantha "Sam" Hutchinson was pronounced dead only hours after her wedding on Friday night. She was 34 years old. She was killed by an alleged drunk driver in the 1200 block of East Ashley Avenue in the city of Folly Beach at around 10 p.m. local time that night. Her newlywed husband, Aric Hutchinson, was severely injured in the awful accident.
Related: AJ McLean Talks Getting Aaron Carter Into Rehab Before His Death
Samantha and Aric (pictured together at their wedding hours before, above right) had been riding in a golf cart along with extended family members Benjamin Garrett and Brogan Garrett at the time of the tragedy. Benjamin and Brogan were escorting the couple to their honeymoon suite after the end of their wedding reception when they were struck from behind by an alleged drunk driver.
In a GoFundMe page set up over the weekend, the mother of the groom described what happened. Annette Hutchinson wrote how the car that hit the newlywed couple and their two family members was traveling at "65 MPH in a 25 MPH zone," and added:
"My son-in-law Benjamin Garrett and grandson Brogan Garrett from Morgan, Utah were escorting the couple from the reception in a golf cart when they were struck from behind by a drunk driver traveling 65 MPH in a 25 MPH zone. The golf cart was thrown over 100 yards and rolled several times."
OMG…
Per WYFF-4 News, a Folly Beach police spokesperson confirmed that cops also believe the alleged drunk driver was traveling at approximately 65 miles per hour on the residential street.
The driver of that car has since been identified as 25-year-old Jamie Lee Komoroski (pictured in her mugshot, above left). Per the news outlet, she was arrested at the scene of the crime and taken to the nearby Charleston County Detention Center. She has since been charged with one count of reckless homicide and three counts of DUI involving great bodily injury or death. As of Monday night, cops say her "blood draw results are pending" as she is being held in jail without bond.
Related: Pregnant Woman Shot To Death While Picking Up Friends From Louisiana Party
In the heartbreaking GoFundMe explanation, the grieving mother-in-law also explained some of the severe injuries now faced by the three other innocent golf cart passengers, including Aric's long road to recovery ahead:
"Sam died from her injuries. Aric is in serious condition and has had one of two reconstruction surgeries, numerous broken bones, and a brain injury, he will have a long recovery. Ben and Brogan were also injured, Ben seriously."
So awful.
Annette continued:
"I was handed Aric's wedding ring in a plastic bag at the hospital, five hours after Sam placed it on his finger and they read each other their vows. Aric has lost the love of his life. This fundraiser will help pay for Sam's burial and medical costs for Aric and his family."
You can view the GoFundMe page HERE. As of early Tuesday morning, that fundraise has taken in nearly $450,000 for the Hutchinson family.
Our hearts are broken over this. Just HOURS after these two got married, their world changed forever.
We can't even imagine going through a tragedy like this. Sending our condolences to those affected…
R.I.P.
If you or someone you know is experiencing substance abuse, help is available. Consider checking out the resources SAMHSA provides at https://www.samhsa.gov/find-help/national-helpline or check out StartYourRecovery.org
[Image via 6-ABC News/YouTube/GoFundMe/Charleston County Sheriff's Office]