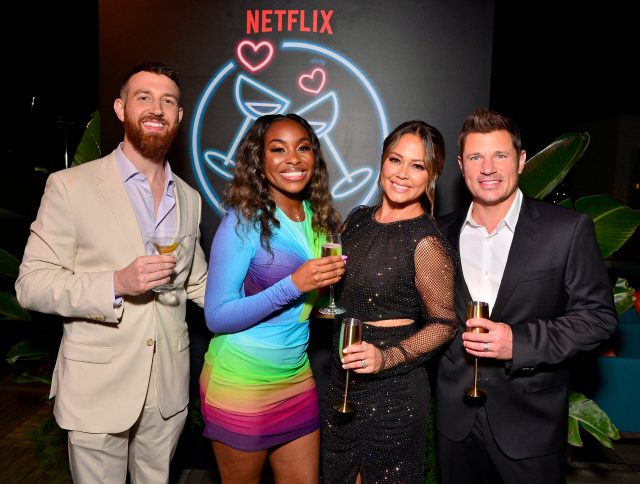 If you're a Love Is Blind fan, then you're probably familiar with the recent criticism of Nick and Vanessa Lachey.
Actually, despite the fact that Nick was just sentenced to court-ordered rehab after drunkenly attacking a female photographer, most of the criticism has been directed at Vanessa.
The reason, of course, is that as the host of a reality show Vanessa is … well, not great.
Her duties on Love Is Blind are pretty minimal, but it seems she's still not up to the task.
Fans started to complain during the Love Is Blind Season 2 reunion, when Vanessa accused Shake Chatterjee of "just want[ing] to f-ck" Deepti Vempati.
Now, no one is denying that Shake was a jerk, but he actually refused to sleep with Deepti, citing his lack of attraction.
The tirade from Vanessa felt like the act of someone who had't watched the show and just wanted to have viral moment.
But it still beat the hell out of Vanessa's performance on the Love Is Blind Season 4 reunion.
Bashing Marshall while praising Jackhelina and Josh; showing a montage of Micah's mean girl moments and then grilling Paul on why he didn't think she'd make a great mom …
… You name the tone deaf, clueless commentary, and Vanessa was guilty of it.
And now it looks as though both producers and fans are fully fed up.
A petition to fire the Lacheys has received over 42,000 signatures, and insiders say Netflix execs have been paying attention.
Not only that, it seems the powers that be already have a replacement couple in mind.
"There's always been whispers about replacing them, especially now after the live reunion special, which was a complete disaster on so many levels," a show insider told the Daily Mail on Tuesday.
"If they want to keep their ratings up, there's got to be a change."
And it seems that change will come in the form of Lauren Speed and Cameron Hamilton.
Lauren and Cameron are one of the biggest LiB success stories, having gotten married in season one and remained together ever since.
And it seems they might soon return to the show that made them famous.
"Viewers feel a connection with Lauren and Cameron because they are the real deal," the source said.
"They are down-to-earth, kind people who can actually help the contestants because they have walked in their shoes. People want to relate to the hosts — and at this point they can't relate to Vanessa or Nick."
Love Is Blind Season 5 has already started filming, so fans are in for at least one more season with the Lacheys.
But after that, it might be Lauren and Cameron's time to shine!
Frankly, it can't come soon enough.