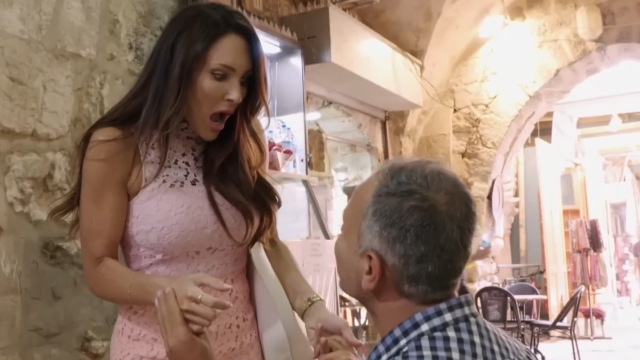 Meisha has wondered if Nicola actually loves her. 90 Day Fiance: Before The 90 Days have questioned that, too.
There are many ways of showing affection. Nicola has displayed almost none of them.
Instead, many viewers feel that he has been going through the motions because he simply believes that they will marry.
Well, Nicola takes the next step. And the absolute disbelief on Meisha's face really says it all.
On Season 6, Episode 16 of 90 Day Fiance: Before The 90 Days, Nicola Kanaan has a surprise for Meisha Johnson.
He is going to propose. Six or seven years have built up to this moment.
But on the sneak peek video (below) of the Sunday, September 17 episode, Meisha has no idea what's about to go down.
Meisha is looking at the shops as they walk by. Perhaps she is wondering where they'll stop. She has no idea what's coming.
"I am going to tell you something very important," Nicola says. His tone is serious. It looks like he's paid attention to his hair for the first time all season. And he's likely wearing his nicest shirt.
"You know that I love you so much, Meisha," Nicola reminds her. "We have known each other for many years."
"I was waiting for a woman like you," Nicola tells her.
"And I want to tell you something very important," he impresses upon her.
When Nicola showers her with praise, Meisha realizes that something is up. Then, of course, he drops to one knee.
It sounds like Meisha emits a nervous laugh.
"I don't have the ring," Nicola admits to her. Isn't that a weird step to skip for a planned proposal?
"But," he suggests, "we will have to go now to buy one."
Meisha appears almost immobile for several moments. This is clearly much more than she expected today.
As she pauses above her, her face awash with disbelief, Nicola has to remind her to answer.
"Are you saying yes or no?" he prompts her.
Eventually, Meisha lets out her answer.
"Yes, I will," she agrees. We hear applause from one or perhaps two people. Did someone prearrange that? (Was it a producer who did the clapping?)
Nicola stands and embraces her. "Let's go to the jewelry store," he announces.
Meisha then admits to Nicola that she truly did not expect this.
"I am in shock because you did it in public," she confesses to him.
It almost sounds like Nicola takes that as an accusation. He asks: "And you say I'm not romantic?"
Nicola's proposal felt like an ambush.
And Meisha's surprise certainly mirrored that.
But, as you can see, Meisha sounds like she's happy with it.
Of course, this may have been a surprise to Meisha (unless she was putting on a show). It was not to viewers.
Eyewitnesses spotted Meisha and Nicola multiple times in her hometown in the US.
Many suspect that they are filming for 90 Day Fiance Season 11.