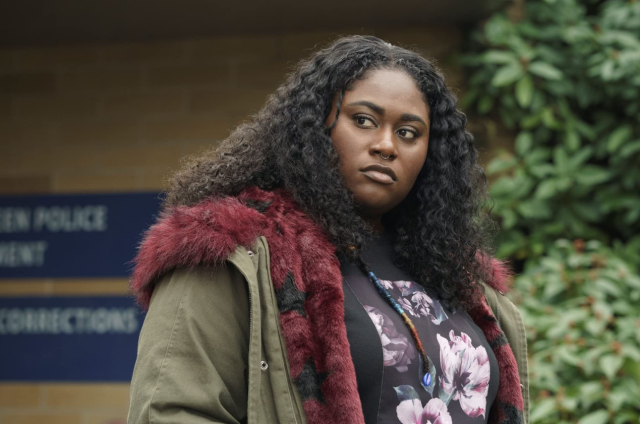 New York Women in Film & Television (NYWIFT) has revealed the honorees for the 43rd annual NYWIFT Muse Awards. Dedicated to "[celebrating] and [illuminating] women of outstanding vision and achievement, both in front of and behind the camera in film, television, music, and digital media," the awards celebration will take place March 28.
Per a press release, this year's MUSE Award winners include IFC Films President Arianna Bocco, Emmy-winning TV host Sandra Lee, Oscar-nominated actress Sharon Stone, BAFTA-nominated actress Freida Pinto, and AMPAS President Janet Yang. "Orange is the New Black" alumna Danielle Brooke will receive the "Made in NY" Award presented by the Mayor's Office of Media and Entertainment, "The Mandalorian" helmer Deborah Chow will receive the Nancy Malone Directing Award, Pulitzer Prize-winning journalist Maria Hinojosa will receive the inaugural Enid Roth Award for Excellence in Journalism. and Tony Award-nominated actress Lauren Ridloff will receive the Loreen Arbus Changemaker Award.
"The party is just getting started! We at NYWIFT are thrilled to host our 43rd year of the Muse Awards back in-person, since COVID-19 impacted our city, our industry, and our world. And what better way to celebrate Women's History Month than to return to celebrate this incredible roster of women that are reinventing how media is made," said NYWIFT CEO Cynthia Lopez. "They are influencers on screen, behind the camera, in the newsroom, and in the executive suite – fighting for everything from the voices of women, the BIPOC community, and disabled folks to be heard, to body positivity, safety on set, awards representation, and more, not to mention creating content that has entertained and informed millions. That content not only got us through the pandemic, but it is our economic engine in the worldwide markets. You will not want to miss this party, with corporate partners like fashion icon David Yurman and many others – NYWIFT is bringing the community back together to celebrate women leaders in the media field!"
NYWIFT was founded in 1977.
Previous recipients of MUSE Awards include Sandra Oh, Maggie Gyllenhaal, and America Ferrera.
Check out more information about this year's honorees below.
---
Arianna Bocco brings with her over 30 years of leadership experience in the independent film space. As President of IFC Films, Bocco oversees film acquisition and business and distribution strategy for AMC Networks' film portfolio including IFC Films, a leading U.S. distributor of independent film, Shudder, the premium streaming service dedicated to the best in horror, thrillers, and the supernatural, and RLJE Films, as well as the subscription service IFC Films Unlimited. Under Bocco's leadership, the company's brands have consistently been recognized for their impeccable taste, championing of diverse first-time directors, and rich library of critically acclaimed and award-winning films.
Danielle Brooks is an Award-winning actress and singer. She most recently starred in August Wilson's Pulitzer Prize-winning Broadway play THE PIANO LESSON opposite Samuel L. Jackson and John David Washington and directed by LaTanya Richardson Jackson. Brooks just wrapped filming THE COLOR PURPLE, the Warner Bros. feature film adaption coming out in December of the Broadway musical which previously garnered Brooks a Tony nomination, where she will reprise the iconic role of "Sofia." She can also currently be seen in James Gunn's HBO Max spinoff series PEACEMAKER. Brooks, a graduate of The Juilliard School, is the co-founder of "Black Women on Broadway."
Deborah Chow is a filmmaker of Chinese-Australian descent who has directed extensively in film and television. She recently directed the limited series "Obi-Wan Kenobi," which was nominated for a DGA, PGA and numerous other awards, as well as recently winning a Saturn award. She also directed 2 episodes of the inaugural season of "The Mandalorian," in addition to directing episodes of numerous other shows such as "Mr. Robot," "Jessica Jones," and "American Gods." She won a NAACP Image Award for "Better Call Saul," and was recently honored with a DGC Visionary award.
In 2010 Maria Hinojosa founded Futuro Media, an independent, nonprofit newsroom based in Harlem, NYC with the mission to create multimedia content from a POC perspective. As Anchor and Executive Producer of the Peabody Award-winning show Latino USA —celebrating its 30th anniversary in 2023— and Co-Host of the award-winning political podcast In The Thick, and most recently her Pulitzer Prize winning podcast Suave, Hinojosa has informed millions about the changing cultural and political landscape in America and abroad. Today she seeks to challenge newsrooms across the world with her new Latina-led investigative journalism unit and its flagship bilingual podcast USA v. García Luna.
Sandra Lee is a Gracie and multiple Emmy® Award-Winning advocate, activist, philanthropist, and an internationally acclaimed home life expert. She is a best selling author of 27 books and the Editor in Chief of Sandra Lee Magazine and Sandralee.com. During her inspiring career, she created/hosted numerous highly-rated television programs broadcast on ABC, NBC, FOX, Food Network, HGTV, Discovery Family, and Cooking Channels with airings in 63 countries worldwide. For decades, Sandra has worked on causes close to her heart and been recognized with the President's Volunteer Service Award, the Eleanor Roosevelt Medal of Honor, the Albert Einstein Award of Excellence, and the Ellis Island Medal of Honor. In 2000, Sandra was one of three founding Board Members of UNICEF®'s Los Angeles chapter and was given UNICEF's Special Appointment of Nutrition Emissary in 2015. For a decade, she served as the national spokesperson for the No Kid Hungry campaign and is a dedicated family member to God's Love We Deliver/Project Angel Food and the Elton John's AIDS Foundation. In spring of 2015, Sandra was diagnosed with early-stage cancer and publicly documented her story. While going through the decision-making process to undergo aggressive treatment and the subsequent extensive complications, Sandra decided to allow unrestricted filming access. Her journey can be seen in the HBO documentary short RX: Early Detection: A Cancer Journey with Sandra Lee. This decision was inspired by her obligation to educate others in taking an active role in their own health care, to provide caregivers with insight and tools for day-to-day patient care and medical advocacy, while also influencing lawmakers to pass legislation that provides no-cost insurance coverage and increased hours for screening accessibility. Sandra's open, uncensored communications has been acknowledged with several prestigious honors including Capitol Hill's Congressional Families Excellence in Cancer Awareness Award, City of Hope's Spirit of Life Award, and The Creative Coalition's Television Industry Advocacy Award.
Freida Pinto is a BAFTA nominated actress, activist, and producer, known for acclaimed films such as Slumdog Millionaire, Trishna, and Rise of the Planet of the Apes. Her recent films include Ron Howard's Hillbilly Elegy, Netflix's Intrusion, and Mr. Malcolm's List. Her upcoming film My Mother's Wedding, is Kristen Scott Thomas' directorial debut and stars Scarlett Johansson, Freida Pinto, Sienna Miller, Emily Beecham, and Kristen Scott Thomas. Freida, under her production company banner Freebird Films, is producing and starring in titles that include the adaptation of New York Times bestseller Both/And by Huma Abedin in partnership with Entertainment One, and the adaptation of New York Times bestseller and Reese Witherspoon's Book Club pick The Henna Artist by Alka Joshi in partnership with Netflix. And for over eight years, Freida has been involved with the girls' educational nonprofit Girl Rising, which uses the power of storytelling to change the way the world values girls and their education.
Lauren Ridloff began her meteoric rise as an actor just five years ago. Prior to that, she won the title of Miss Deaf America and was a kindergarten teacher in Manhattan for a decade. After leaving that job to take care of her two young children, she was hired in 2016 to tutor director Kenny Leon in American Sign Language as he readied the Broadway revival of Children of A Lesser God. After working together for months, Kenny and the producers concluded that Lauren was the ideal and only choice for the lead. She pulled it off with resounding success, including multiple rave reviews from The New York Times and a Tony nomination. She soon became a series regular on the long-running AMC series, "The Walking Dead." She then became the first Deaf superhero opposite Angelina Jolie and Kumail Nanjiani in Marvel's worldwide hit, Eternals. Next, she's set to executive produce and star opposite Joshua Jackson in an untitled series for Starz produced by Ava DuVernay. Lauren received a 2020 BAFTA Breakthrough award recognizing the most promising stars of film and television.
Sharon Stone is an internationally recognized actress, artist, producer, humanitarian, and New York Times bestselling author of her recent book The Beauty of Living Twice. Her film and television credits include Basic Instinct and Casino, for which she won a Golden Globe for Best Actress in 1996 and an Academy Award nomination for her leading role opposite Robert de Niro in Martin Scorsese's crime drama. Stone received two more Golden Globe Award nominations for her roles in The Mighty (1998) and The Muse (1999). Other film credits include Sliver (1993), The Specialist (1994), The Quick and the Dead (1995), Last Dance (1996), Sphere (1998), Broken Flowers (2005), Alpha Dog (2006), Bobby (2006), and Lovelace (2013) among others. Stone's television credits include roles in limited series such as Netflix's Ratched (2020), HBO's Mosaic (2017), The New Pope (2019), as well as The Practice (2004), for which she won the Primetime Emmy Award for Outstanding Guest Actress in a Drama Series. Stone has been honored with a Nobel Peace Summit Award, a Harvard Humanitarian Award, a Human Rights Campaign Humanitarian Award and an Einstein Spirit of Achievement Award, among other accolades. She currently lives in Los Angeles with her three sons and has her first painting show at ALLOUCHE galleries.
Janet Yang is an Emmy and Golden Globe Award-winning Hollywood producer, who currently serves as the President of the Academy of Motion Picture Arts and Sciences. Yang's extensive film and television credits include The Joy Luck Club, The People vs. Larry Flynt, The Weight of Water, Shanghai Calling, High Crimes, Zero Effect, and the Academy Award-nominated animated feature Over the Moon. Yang began her career by running the first distribution company to market Chinese films into North America. She also brokered the reintroduction of American studio films to the Chinese marketplace after a decades-long hiatus. This in turn led to joining Steven Spielberg on the historic production of Empire of the Sun. This was followed by a long-term partnership with multiple Academy-Award winning writer/director, Oliver Stone. Yang has been named one of the "50 Most Powerful Women in Hollywood" by The Hollywood Reporter.