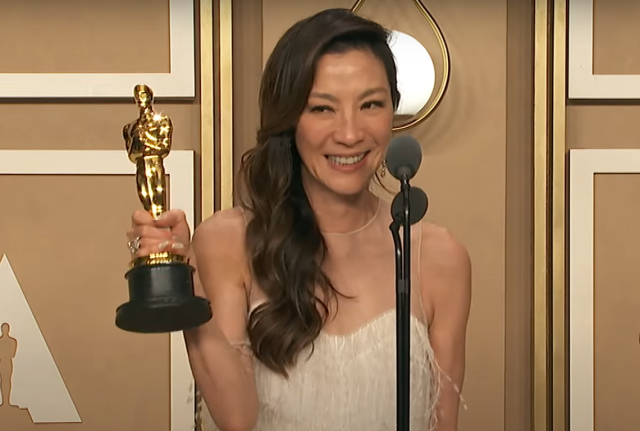 "This is history in the making." "Everything Everywhere All at Once's" Michelle Yeoh concluded her acceptance speech at the Oscars on Sunday by recognizing the milestone audiences around the world had just witnessed: Yeoh became the first Asian woman to win Best Actress, and the second woman of color to win the honor. (Halle Berry broke ground as the first in 2002 for "Monster's Ball.")
During her time at the podium, Yeoh gave a shout-out to younger viewers. "For all the little boys and girls who look like me watching tonight, this is a beacon of hope and possibilities. This is proof that, dream big, and dreams do come true," she emphasized. She also shared a special message for older women. "And ladies don't let anybody tell you you are ever past your prime," she urged. "Never give up."
Ruth Carter also made history at the ceremony, becoming the first Black woman to win two Oscars. She took home the honor for Best Achievement in Costume Design for "Black Panther: Wakanda Forever," a category she topped in 2019 thanks to her work on the first installment of the Marvel franchise. "Thank you to the Academy for recognizing the superhero that is a Black woman," Carter said during her latest acceptance speech. "She endures, she loves, she overcomes. She is every woman in this film."
After winning Best Adapted Screenplay for "Women Talking" Sarah Polley kicked off her speech with a quip. "I want to thank the Academy for not being mortally offended by the words 'women' and 'talking' put so close together like that," she said.
In all of Oscar history, just three women have been nominated for Cinematography: Mandy Walker was up for the honor this year for "Elvis," but did not win. Rachel Morrison ("Mudbound") and Ari Wegner ("The Power of the Dog") previously scored noms. We are still waiting for the day a woman lands the prize.
View a complete list of winners here.
No women were nominated for Best Director this year.