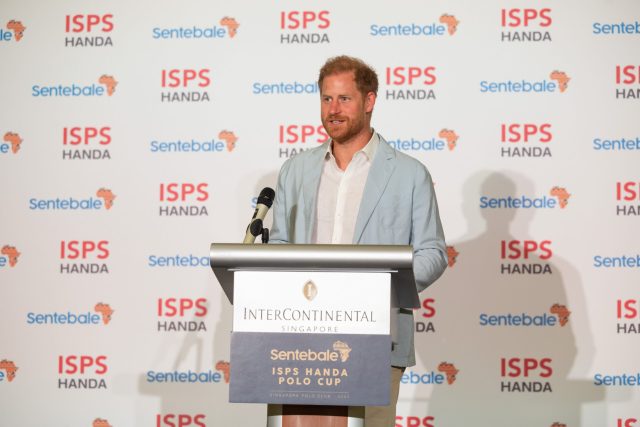 On September 9, Prince Harry and Meghan Markle will arrive in Dusseldorf, Germany for the Invictus Games, an annual competition for sick and disabled veterans that Harry helped found in 2014.
The event will mark the couple's first joint public appearance since April, and many see it as a crucial step toward rebuilding their public image, which has taken a beating in recent months.
Ahead of the games, Meghan and Harry's production company has released a Netflix documentary series entitled Heart of Invictus.
And some critics believe that the "self-indulgent" project might have prematurely squandered any goodwill Harry may have built up by playing host during next month's competition.
At one point in the series, Harry talks about his own trauma, which he says stems from both his experiences as a soldier in Afghanistan and from the loss of his mother when he was just 12 years old.
"From my personal experience, my tour of Afghanistan in 2012, flying Apaches, somewhere after that there was an unraveling," the Duke of Sussex tells the audience.
"And the trigger to me was returning to Afghanistan, but the stuff that was coming up was… from the age of 12. Losing my mum at such a young age, the trauma that I had I was never really aware of," Harry continues.
"It was never discussed. I never really talked about it and I suppressed it like most youngsters would have done.
"But when it all came fizzing out I was bouncing off the walls. Like, 'What is going on here?' I'm now feeling everything as opposed to being numb."
Some viewers have complained that Harry's remarks about the lack of support he received serve only to shift the focus away from the competing vets and back onto the royal family drama that's inspired so many headlines in recent years.
"The biggest struggle for me was no one around me really could help," Harry says in the series.
"I didn't have that support structure, that network, or that expert advice to identify what was actually going on with me," he adds.
Harry says that in the years since he emerged from his own rock bottom, he's worked to destigmatize conversations about mental health and encourage others to seek treatment before it's too late.
"Unfortunately, like most of us, the first time you really consider therapy is when you're lying on the floor in the fetal position probably wishing you had dealt with some of this stuff previously," he recalls in the doc.
"That's what I really want to change. I've always wanted the Invictus Games and the support that comes with that all year round to be a net to catch those individuals."
Interestingly, Meghan only makes a few brief appearances in the film, each time offering support to Harry as he continues the important work of advocating for veterans.
This was likely a conscious decision from Team Sussex, part of an effort to counter the idea that Meghan likes to take center stage and that Harry frequently finds himself in the position of supporting her career.
Harry's relationship with the media is notoriously contentious, but the Duke of Sussex has taken an active in the promotional campaign for Heart of Invictus, even making a surprise appearance at a screening in Chula Vista, California on Monday.
Unfortunately, the media hasn't seemed terribly eager to welcome Harry back to the spotlight.
For example, The Daily Beast is one of several outlets to run headlines accusing Harry of "trashing" his family in the film.
And the usual gang of pundits seemed ready to go with pre-loaded hot takes accusing Harry of solidifying his reputation as an ungrateful whiner.
"The Duke of Sussex couldn't quite resist having a couple of subtle digs, both at the British press and the Royal Family," royal expert Cameron Walker writes of the series.
"He accused the institution of not giving him a 'support structure' when he returned from Afghanistan and said the first time he considered therapy was when he was 'lying on the floor in the fetal position.'"
From there, Walker unfavorably compares Harry and Meghan to Prince William and Kate Middleton.
"The fifth in line to the throne currently ranks as Britain's third least-popular royal according to YouGov, whereas his brother Prince William ranks the most popular after Queen Elizabeth II," he writes.
"One of the reasons The Prince and Princess of Wales have such strong popularity ratings, both in the UK and the USA, is because they use their platform to shine a spotlight on charity and humanitarian causes close to their hearts," Walker continues.
"The Duke and Duchess of Sussex have spent the last three years, give or take, voicing their contempt for the institution they say they felt trapped in, as well as hurling damning allegations against close family members."
Needless to say, it'll take more than some humanitarian work and a well-made documentary for Harry to win back the hearts and minds of his fellow countrymen.
In fact, it's looking more and more as though all efforts in that direction will be in vain.
Fortunately, Harry's reasons for helping his fellow veterans have little, if anything, to do with public relations.