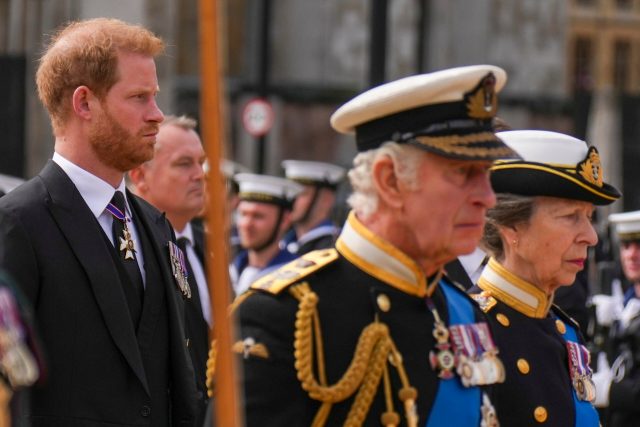 Wisely, after years of smear campaigns and vitriol, Meghan Markle is done with royal life.
She will not attend King Charles' lavish coronation next month. And insiders suspect that this signals an end to public attendance at any royal gatherings.
Prince Harry will attend his father's public spectacle, however.
That was not an easy choice. Insiders say that father and son (finally) spoke at length before he made the decision.
According to a report by The Daily Mail, Prince Harry and King Charles played the modern equivalent of phone tag for a long time.
Royal insiders characterized it as "transatlantic ping pong." Essentially, it seems like they struggled to find the right time to speak.
Perhaps, one must speculate, they were truly struggling to find the right things to say to one another.
Charles has been king — a title whose continuing existence would be hilarious if it were not such a farcical indignity for millions of his "subjects" — since his mother, Queen Elizabeth II, passed away.
On May 6, he will hold a wildly expensive coronation, despite the widespread economic struggles in the UK.
Harry will attend the ceremony at Westminster Abbey. Duchess Meghan, his beloved wife, will remain home in Monecito. As will their two children, Archie and Lilibet.
Allegedly, Harry and Charles' talk was very productive — for both of them.
They both saw in each other that there was clearly a "willingness and wanting to mend on both sides."
Additionally, Harry made it very clear that he wants to "show support for his father." Obviously. Otherwise, the conversation likely never would have taken place at all.
Meanwhile, an intriguingly similar report from the Sun on Sunday shared the king's current state of mind.
Apparently, Charles currently feels very "happy" with Harry's decision to attend.
Additionally, Charles reportedly "understands" why Meghan has opted to stay home. There are a host of good reasons — not the least of which being that May 6 will also be Archie's birthday. He will turn four!
Now, here is where things get a little murky.
Harry arguably had more to say about his brother, Prince William, than he ever has about his father.
Reports say that neither of Charles' sons have spoken to each other since Spare, Harry's fast-selling memoir, first hit bookshelves. The book exposed incidents of atrocious behavior on William's part.
During a recent visit to Sandhurst, Charles expressed his "pride" in both William and Harry.
"Speaking as a father of two alumni of this academy who remembers their passing out parades," he said.
Charles continued: "I know they will be full of immense pride in witnessing you on parade."
It remains unclear if Harry and William have attempted to touch base, or even done any "ping pong" of their own, in recent days or weeks.
Meanwhile, Harry's visit to the coronation won't just be a layover of a few hours.
He will reside at Frogmore Cottage. He and Meghan lived there, and paid for massive renovations. However, this will likely be the last time that Harry stays there. The cottage, once a gift from the late queen, belongs to the royal firm. Harry no longer does — though he remains part of the family.
Finally, we just have to note that multiple UK tabloids are reporting similar stories … alleging details of Charles' private conversations and even his thoughts on the matter.
What does that mean? Usually, it means that the royal firm itself is the "source." That the palace is sharing this directly, but without making an official statement to the public.
That does not necessarily mean that it is untrue. But it is always something to consider.