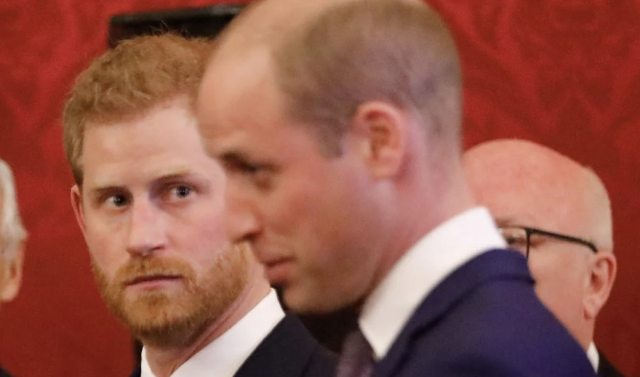 In May, the UK will host its first coronation since Queen Elizabeth II was crowned at Westminster Abbey in 1953.
The entire world will be watching as King Charles III officially takes his mother's place in a ceremony that insiders say will be more streamlined than past coronations, but no less regal.
For Charles, it's a day that he's been anticipating for decades, and we're sure nothing would make him happier than if his entire family were in attendance.
But based on recent comments from Prince Harry, it seems unlikely that Charles' wish will come true.
As we've previously reported, Prince Harry and Meghan Markle were invited to the coronation in March, but until today it was unclear if they planned to attend.
Now, Harry has revealed that he will be on hand for the ceremony on one condition:
The Duke of Sussex wants to engage in a high-stakes contest of strength with his older brother, Prince William.
In a press release issued Saturday morning, Harry publicly challenged his brother to an arm wrestling contest with nothing less than the fate of the British monarchy on the line.
Harry claims to have uncovered a long-forgotten law from the 13th century that requires all future monarchs to accept such challenges from younger male siblings, with the understanding that they will lose their place in the line of succession if they are defeated.
That's right — Harry wants to arm wrestle William for the throne.
"Willy, you bald-headed wanker, you should've known this day was coming," Harry wrote in today's statement.
"If you didn't, then you're even more of a tosser than I thought."
From there, Harry seemed to admit that he was intoxicated, but the 38-year-old insisted that he's sincere in his intent to challenge his brother's birthright.
"I may have downed a few pints, ya muppet, but you better believe every word of what I'm about to say," Harry continued.
"It's all in the Magna Carta, you bloody git. If we arm wrestle, and I win, I take over for Pa when he croaks.
"Of course, knowing this family, that won't happen for another 20 years, and I'll be as bald as you when I finally get crowned."
Harry went on to reveal that the injustice inherent to the UK's primogeniture laws has been on his mind a great deal in recent weeks.
"They're not fair, our rules of succession. That occurred to me one day while I was watching the bloody HBO show — wassit called? — House of the Dragon!" a clearly inebriated Harry continued.
"So I did a bit of digging, and I found out there's a way for me to usurp my wanker brother and give the people a king they can really be proud of!
"I mean, I once ate shrooms at Courteney Cox's house! What's the coolest thing you ever did? Go skiing in the Alps? That's, like, the most 'rich wanker' thing I can think of."
Perhaps beginning to sober up, Harry abruptly changed his tone toward the end of the message and offered William an unexpected compromise:
"I suppose we could be co-monarchs, but then some folks might refer to our reign as the Harry-Willy Period, and that just won't do, will it, mate?" he wrote.
Okay, by now it should be obvious that this was article just an April Fools' Day prank.
We hope you were amused enough to counterbalance any annoyance you might be feeling over our little joke!