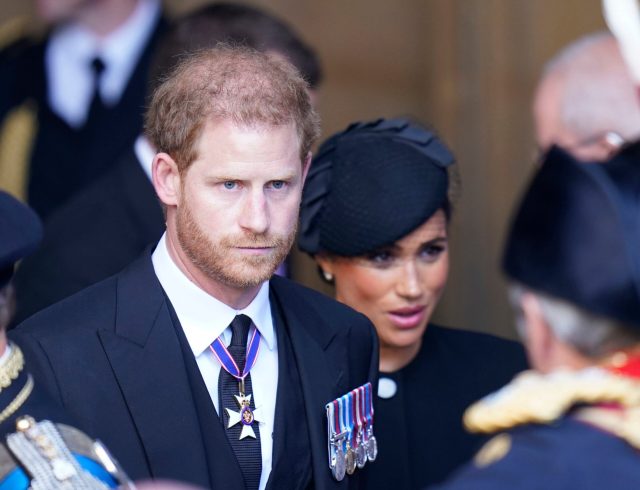 We're just two weeks away from the coronation of King Charles III, and after months of uncertainty, it sounds as though the planning process is now running smoothly.
The biggest question mark hanging over the event involved the guest list, and the press fixated on one invitation in particular.
We now know that while both of the Sussexes were invited, only Prince Harry will make the trip to London for his father's coronation.
Harry's wife, Meghan Markle, will remain in Southern California with the couple's two children.
Some say Meghan is skipping the ceremony for mental health reasons, while others believe she's remaining at home in order to focus on throwing a party for Prince Archie, whose birthday is the same day as the king's coronation.
And yes, there's reason to be suspicious of the royals' scheduling.
Many believe that Charles and company wanted Meghan to steer clear of the ceremony, as her presence would have served as a distraction.
And then there are those who believe the royals are anticipating a side benefit to the Duchess' absence — namely, that it will make Harry that much more uncomfortable with his surroundings.
"I was watching the body language when he came out of St. George's Chapel when [Queen Elizabeth] had finally been laid to rest on the last day of the funeral itself," said journalist and royal expert Tessa Dunlop in a recent interview with OK! magazine.
"He was helping Meghan into the car, and he just wasn't a man who was comfortable in his skin. And this time he's coming over without the support of Meghan," Dunlop added.
"Clearly, he does lean on her very heavily. And he's coming alone. That means he's exposed, effectively."
She concluded by noting that Harry will not be seated with his immediate family during the coronation, and will instead be several rows back with his cousins Beatrice and Eugenie.
"He will be made to sit [farther from the royals] at best. So, he will have that feeling of demotion," she explained.
Dunlop's belief that Harry will have a difficult time at the coronation is echoed by royal journalist Christopher Andersen.
"My guess is that Harry will be treated like something of a pariah, and that he is well aware of that. So, you have to give him credit for being willing to show up anyway. There is a humiliation factor here," Andersen recently remarked.
:Watching the other royals share center stage with the King and Queen while he is probably going to be shunted aside—this will likely be painful and incredibly frustrating for Harry," he added.
"I fully expect Harry to be sidelined and snubbed. We can look forward to lots of photographs of Harry standing alone, looking downcast and grim, even visibly seething."
We're not convinced that Harry will be "visibly seething" during the ceremony.
But you can be sure that the Duke of Sussex is very much not looking forward to his father's big day,