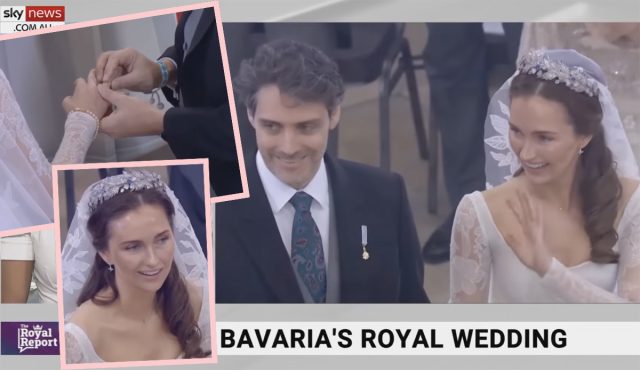 Things didn't go quite as planned for Sophie Evekink — now Princess Sophie — over the weekend during her wedding to Prince Ludwig of Bavaria.
The 34-year-old Dutch-Canadian very briefly lost consciousness during the ceremony and fainted.
OMG!!
According to reports from the scene on Saturday morning at the Theatiner Church in the city of Munich, Germany, the doctoral student went unconscious while in her wedding dress, and in front of everyone. She was there at the church preparing to tie the knot with Prince Ludwig when the unthinkable occurred: a fainting spell!!
Related: Are Megan Fox & Machine Gun Kelly Doomed? Wedding Still NOT Back On!
One royal blogger reported on Saturday morning that Sophie fell during the ceremony but "after a drink she was fine again" — and the procession continued:
Bild: "The bride fell backwards, the groom caught her. The maid of honours rushed over, paramedics brought her water. She felt well again straight away. Prince Leopold of Bavaria gave her a piece of glucose."

— ChristinZ (@ChristinsQueens) May 20, 2023
As that second tweet (above) indicates, German news outlet Bild later confirmed the fainting incident, too. It apparently occurred "during her vows" to the Prince. Oh no! Was it just that stressful??
According to an additional later report from that German-language news outlet (translated to English, below, via People), the groom actually caught Sophie:
"The bride fell backwards, the groom caught her. The groomsmen rushed over. We are glad that she felt well again straight away."
Whoa!
We're so glad the groom had such heroic reflexes! Things could have turned out VERY differently had she hit her head or something. So scary!!
Related: Chrishell Stause & G Flip Are Not Legally Married Despite Las Vegas Wedding Ceremony?!
But no matter. It sounds like everything went on just fine after that. Per Bild and others, the wedding continued on without any more hitches or hiccups.
And according to People, the newlyweds said their vows, wrapped up the amazing ceremony, and then went on to nearby Nymphenburg Palace. There, Prince Ludwig's cousin — Duke Franz of Bavaria — hosted a swanky afternoon reception. And there was no more fainting from anybody involved, thankfully!
We are so glad everything turned out OK! And she of course became Princess Sophie! What about U, Perezcious readers?? See some footage from the otherwise perfect ceremony (below):
[Image via Sky News/YouTube.]