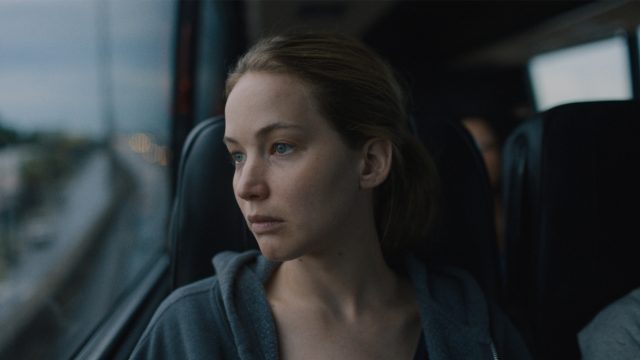 "The morning after I gave birth, I felt like my whole life had started over. Like, Now is day one of my life," Jennifer Lawrence recalls in a new feature for Vogue. "I just stared. I was just so in love." She was also lucky to experience "a great pregnancy." She's enjoying this chapter of her life, but since Roe v. Wade was overturned in June, she keeps thinking about how pregnancy and motherhood were a choice for her. They were experiences she very much wanted — but what if they weren't?
"I remember a million times thinking about it while I was pregnant. Thinking about the things that were happening to my body. And I had a great pregnancy. I had a very fortunate pregnancy," the Oscar winner explains. "But every single second of my life was different. And it would occur to me sometimes: What if I was forced to do this?"
Of course, that's exactly what's happening all over the country: women and folks with uteruses are being legally compelled into carrying unwanted or nonviable pregnancies to term. They have no choice in the matter; every single second of their lives is being dictated by the Supreme Court's fuckery and the resulting red state assault on reproductive rights.
Lawrence's interview also brings awareness to the fact that people who want to have children also need abortions and related medical procedures sometimes. (Yes, misogynist, anti-abortion ghouls. This is a thing that happens. A lot.) In her early 20s, Lawrence got pregnant, intended to get an abortion, and ended up having a miscarriage. Later on, after she was married, she got pregnant, was excited to have the baby, and ended up having a miscarriage. She subsequently underwent a medically necessary dilation and curettage (D&C), a surgical procedure that removes tissue from the uterus.
Today, in certain parts of the United States — such as her native Kentucky — if Lawrence had a miscarriage and/or a D&C, she'd be considered a criminal.
In the wake of the Dobbs decision, many women, folks who are able to get pregnant, and allies in the industry have spoken out about the need for legal, accessible abortion. A coalition of over 400 women showrunners demanded studios create abortion safety plans and enact protections for employees seeking to terminate a pregnancy; 400 directors and 600 male showrunners issued statements of solidarity. It remains to be seen where the coalition's action will lead. Following a lackluster studio response on August 10, the group demanded updated abortion safety protocols by yesterday, Labor Day. Nothing has been heard from the studios thus far.
The showrunner coalition is also raising money for the National Network of Abortion Funds, which helps people navigate barriers so they can get the abortions they want and need.
You can see Lawrence next in "Causeway," a drama about an injured soldier trying to acclimate to civilian life back home in New Orleans. The Lila Neuge­bauer-directed film will make its world premiere this Saturday, September 10, at TIFF. It will be in theaters and available on Apple TV+ November 4.
Lawrence won an Oscar for "Silver Linings Playbook" and received nods for "Winter's Bone," "American Hustle," and "Joy." She also counts "Don't Look Up," the "Hunger Games" franchise, and "Mother!" among her credits.