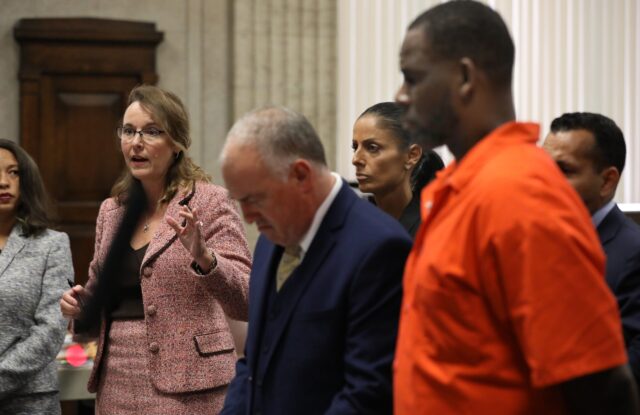 Back in June, R. Kelly was sentenced to 30 years in prison on racketeering and sexual assault charges.
But his time in court was far from over.
Kelly was back in court this week to be tried on federal child pornography charges.
And as expected, the evidence against the disgraced singer was again both appalling and damning.
On Thursday, a 37-year-old woman identified only as Jane took the stand.
She explained on the stand that Kelly was her formerly her godfather and that the two of them had sex "hundreds of times" before she turned 15.
Jane told the court that Kelly first touched her breasts when she was just 14.
He then allegedly gave her champagne, instructed her to refer to her genitalia as "14 years old," and urinated on her, according to the Chicago Tribune.
In a video taken around that time, Kelly is allegedly seen handing Jane money before having sex with her in a jacuzzi room.
The prosecutor asked Jane why Kelly gave her cash, at which point, the alleged victim burst into tears on the witness stand.
"Because if anybody saw the tape or if it was released for some reason, he would say I was a prostitute," she explained.
Jene went on to allege that Kelly had sex with her "innumerable times," often in the company of other teenage girls, whom he pressured her to recruit.
According to prosecutors, Kelly paid off Jane and her family so that she would not testify in his 2008 sexual assault trial.
Kelly was cleared of all charges on that occasion, but he was arrested again last year after a documentary about his past crimes presented new evidence.
He is now facing a 13-count federal indictment, including charges for child pornography and obstruction of justice.
Derrel McDavid, Kelly's former business manager and accountant and Milton "June" Brown, Kelly's former assistant are facing child pornography and obstruction charges.
N
Both parties have pled not guilty.
Attorneys for Kelly called Jane's credibility into question, noting that the witness had previously denied that she was the girl in the video.
"For the last 22 years, she has adamantly denied that it was her in that video. Before there was any criminal investigation, she denied it," Jennifer Bonjean said on Wednesday.
"She denied it repeatedly to prosecutors, she denied it to social workers to police officers. She denied it under oath to a grand jury."
"I was afraid to expose Robert … I was afraid of what might happen to my parents," Jane told the court when asked why she had previously lied to protect Kelly. "I also did not want that person to be me."
Testimony is expected to continue on Friday.
Kelly is facing four counts of enticement of minors and three additional accusers are expected to testify.
A