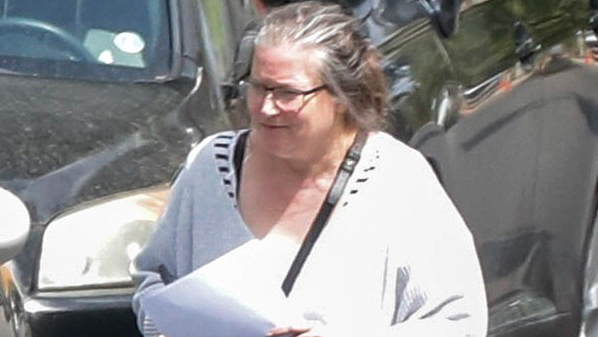 Bridget Fonda was photographed on Friday (Apr. 14), marking the first time since September 2022 that the Singles star was spotted in public. Bridget, 59, was seen running errands at a landscaping supply store. She wore an oversized white sweater, black capri pants, and a pair of comfortable sneakers for the outing. The former actress wore her hair up in a messy ponytail. Bridget — who left acting in 2002, focusing instead on her life and family with her husband, Danny Elfman – seemed focused on the task at hand, looking at the papers she carried before getting into her car.
The sighting comes roughly seven months after Bridget was last spotted in public. In September, Bridget wore a black and white striped V-neck shirt, black trousers, and grey New Balance sneakers. As with this latest outing, Bridget was spotted visiting a landscaping supply store. Her outfit was very similar to the one she wore when she was photographed in January 2022, the first time she was seen in public in twelve years. For that outing, Bridget ran errands with her and Danny's son, Oliver Elfman.
Bridget stepped away from acting in the early 2000s – around the time she survived a rollover car crash on the Pacific Coast Highway. At the time, her publicist said that Bridget suffered a "slight fracture of two thoracic vertebrae" and was expected to make a total recovery, per the Desert News. However, she reportedly told the Evening Standard that she was growing weary of the emotional investment that comes with a life in front of the cameras.
"It's very easy to get excited about a job," Jane Fonda's niece once said, per Closer Weekly, "but it's a big commitment because you do it, and then you have to live with it when it's finished. It's forever in your section in the video store. It's you. It's almost like deciding who you have a child with."
Bridget's biggest movie roles were The Godfather Part III, Singles, Point of No Return, Jackie Brown, and It Could Happen To You. Her last role was in a 2022 television movie called Snow Queen.
"I wonder what kind of satisfaction I would have with where I am now if I wasn't part of a family that has done such phenomenal work," she said in a 1993 interview, per Page Six. "I wonder what it would feel like to know that you've made it completely under your own steam. I sometimes wonder if I would be more at peace if I could know I made it by myself instead of always wondering how many times my name got me in the door."
When speaking about his 2021 album, Big Mess, with Stereogum, Danny gave a rare peak into his and Bridget's life. Danny "put three months of work" into a scheduled Coachella appearance, only for it to just "explode" due to the COVID-19 pandemic. " So there was a big depression that came out of that. All that energy, and then nothing. On top of that, there was isolation and quarantine, and being cut off [from] most of my family except for my wife, my 16-year-old, and my dog. I wasn't alone, but I have a big extended family that gets together every week, and I was cut off from all of them."
The album, Danny's second solo LP, grew out of that prep work for Coachella. He told Stereogum about the "process of arranging to play the music for record companies, which was a huge challenge."
"We'd make an arrangement, everybody would isolate, we'd all get tested, four of us would meet in my studio — two record company reps, my manager, and myself. This happened a half-dozen times, and then I'd go back home and isolate from my family for a week. My daughter set up a table outside of the dining room where I'd be eating outside away from the rest of them, and she'd say, 'Just pretend it's a restaurant, dad — this is an exclusive table.' Enough days would go by, I'd get tested, wait 48 hours, and then I'd rejoin the family again. It was very challenging."
Click to Subscribe to Get Our Free HollywoodLife Daily Newsletter to get the hottest celeb news.