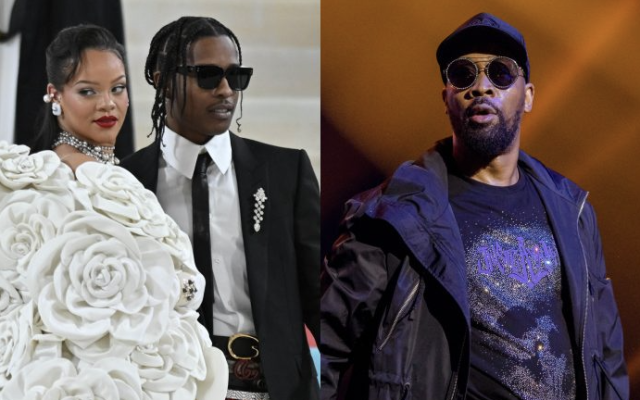 Rihanna is one of the most successful musical artists of the 21st century.
Her romantic partner, A$AP Rocky, is obviously far less famous, but he's a well-respected name in the world of hip hop.
For the most part, the two musicians have been very private about their relationship.
But based on the name of their first child together, we think it's safe to say that they've both been heavily influenced by the hardest rappers to ever emerge from the slums of Shaolin:
According to a new report from the Daily Mail, RiRi's child has been christened with the unusual moniker of RZA Athelston Mayers.
Rihanna and Rocky have been tight-lipped about their son's name ever since he was born in May of last year, but the Mail obtained a copy of the kid's birth certificate.
Now, we suppose the name could be an homage to some other RZA, but most fans have concluded that the boy's parents are big fans of the Wu-Tang Clan and its beloved founder.
And why shouldn't they be?
In case you're somehow unaware, the RZA and his companions (GZA, OI' Dirty Bastard, Inspectah Deck, U-God … you know how the roll call goes!) transformed hip with the release of their 1993 debut album Enter the Wu-Tang (36 Chambers).
Rihanna was five years old and still living in Barbados in those days, but she says that throughout her life she's been influenced by a wide array of musicians, including the American hip hop icons of her youth.
As for Rocky, he's a native New Yorker, and we know he's a longtime fan of the Wu.
In fact, he collaborated with original Clan member Raekwon on the 2015 single "Fly International Luxurious Art."
In interviews, Rocky has cited Wu-Tang as his greatest musical influence, and he even paid homage to the Shaolin monks with a tribute track entitled "Wu-Tang Forever."
These days, Rihanna is pregnant with her second child, and she's been spotted rocking maternity gear emblazoned with the Wu-Tang logo on more than one occasion.
We don't much about Rihanna's forthcoming bundle of joy, including its gender or due date.
But naturally, there's been widespread speculation about the possibility of another Wu-inspired name.
Will RiRi soon be mother to a little Method Boy?
Perhaps in anticipation of all the apple juice she'll eventually be forced to mop up, she'll christen the kid Ghostface Spillah!
The possibilities are endless!