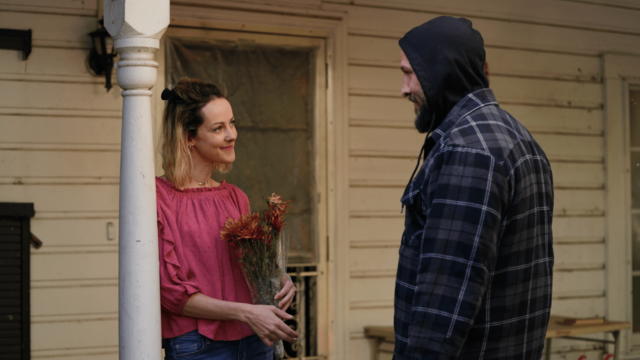 "Lorelei," writer-director Sabrina Doyle's feature debut, will soon be making its way to cinemas and on-demand services. A press release announced that Vertical Entertainment acquired U.S. rights to the drama, and plans to release it in theaters and on VOD this summer. Visit Films will be overseeing international rights.
Described as "a working-class fable about a biker, a mermaid, and three shades of blue," "Lorelei" was selected for the 2020 Tribeca Film Festival prior to its COVID-related cancellation, and picked up Jury prizes at the Deauville American Film Festival and Mannheim-Heidelberg Film Festival.
The film tells the story of Wayland (Pablo Schreiber), who has spent the last 15 years in prison for armed robbery. "Upon his release, he returns to his blue-collar hometown and inadvertently reconnects with his high school girlfriend Dolores (Jena Malone), now a single mother struggling to support her three kids, who are all named after different shades of blue. Soon after their reunion, Wayland moves in with the chaotic family and becomes a reluctant yet much-needed father figure," the film's synopsis teases. "Struggling to pay the bills, Wayland finds himself drawn back to his old ways as Dolores yearns for her pre-motherhood dream of living in Los Angeles."
"As a first generation high school graduate, I wanted to make a film that depicts the resilience of hard-up Americans – their ability to adapt and transform. And to dream big, even when life conspires to keep them small," Doyle said. "Pablo, Jena, and our three young newcomers all deliver incredible performances, and I'm delighted to partner with Vertical Entertainment to bring this film to U.S. audiences."
When we asked Doyle what she wanted audiences to think about after seeing "Lorelei," she said, "Maybe not so much a concrete thought as a feeling — which is what my favorite films leave me with — that life is mysterious, tragic, complicated, and kind of wonderful."
Doyle previously wrote and directed shorts such as "Code Red" and "Sing Room." A former BBC journalist, her filmmaking has received support from Women in Film LA, the Nicholl Fellowship, the Mary Pickford Foundation, BAFTA Los Angeles, and the US-UK Fulbright Commission.