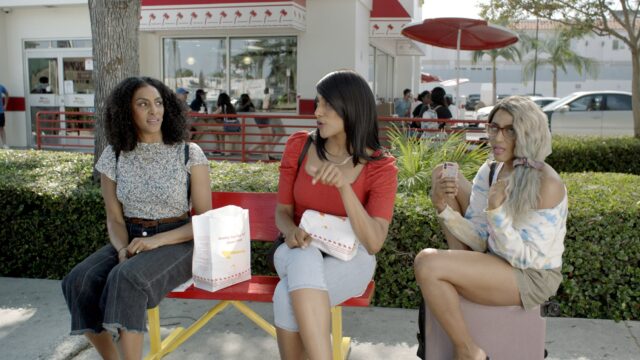 Sarah Jones is a Tony Award-winning performer, writer, comedian, and activist known for her multi-character, one-person shows, including Broadway hit "Bridge & Tunnel," originally produced by Oscar winner Meryl Streep, and the critically-acclaimed show "Sell/Buy/Date." Jones has given multiple main-stage TED Talks garnering millions of views, and performed for President and First Lady Obama at the White House. She recently launched Foment Productions, a social justice-focused entertainment company aligned with her progressive, intersectional activism. Her film and TV credits include "Broad City," " Marriage Story," and "The Incredible Jessica James." She has served as a writer/producer on "SMILF" and recently developed her own character-based show for CNN.
"Sell/Buy/Date" screens at the San Francisco International Film Festival on April 24.
W&H: Describe the film for us in your own words.
SJ: "Sell/Buy/Date" is a heartfelt doc/narrative hybrid — I call it an "unorthodoc" — following me and the multicultural characters I play on a journey exploring my personal relationship to the sex industry through a social justice lens.
Oh, and it's also a comedy!
W&H: What drew you to this story?
SJ: As a woman and woman of color in particular, I've always wanted to tell stories that most films — AKA films created by and focused on cishet white dudes — don't, especially when they can bring the most marginalized voices to the center.
W&H: What do you want people to think about after they watch the film?
SJ: I want people to realize how much the same questions at the core of the film — about money, sex, race, and power — are much more relevant to all of our lives, regardless of gender, race, or class status, than we may realize.
I want us all to ask deeper questions about what freedom and choices and equality really look like in a society like ours.
W&H: What was the biggest challenge in making the film?
SJ: I'd say being a first-time director was its own challenge, and then writing a film inspired by a play that's about a rich but controversial topic added a layer, and then being in front of the camera as myself, plus four other roles during a pandemic — let's just say I learned I might be a masochist.
W&H: How did you get your film funded? Share some insights into how you got the film made.
SJ: We are very much a true independent film, so it took a village. We basically went out to longtime friends and supporters who believed in the play and my other work over the years, as well as social justice-focused foundations.
We were also fortunate enough to be accepted into a Filmmaker Investor program which helped bring in the funds to get the project off the ground.
W&H: What inspired you to become a filmmaker?
SJ: After performing the play for a while and hearing audiences share that it helped them think about the topic in new ways, I was grateful but exhausted since I could only reach a few hundred people a night. I wondered if there was a way to create a story that incorporated the ideas in the play but using the power — and potential reach — of film as a medium instead.
W&H: What's the best and worst advice you've received?
SJ: It sounds so cliché, but the best was that if you truly believe in the story you're telling and that you're the only one who can bring it to life in the way you envision it, then make your movie, no matter who doubts you or even actively gets in your way.
The worst was that I shouldn't make my film because it might upset certain people, especially certain cishet white dude gatekeepers.
W&H: What advice do you have for other women directors?
SJ: I'd say do as much of your own personal healing work as you can before embarking on the work of the film itself. This industry has been rooted in misogyny, white supremacy, exploitative power dynamics, etc. for so long that the people perpetrating them don't even realize they're doing it.
But for those of us who know first-hand the disempowering gauntlet of living-while-female, the dismissiveness, gaslighting, and flat out disrespect can trigger our other personal experiences of sexism and marginalization. So, I highly recommend support groups, therapy, and surrounding yourself with other women in the industry — and the men who get it, hello, you two — whom you trust.
W&H: Name your favorite woman-directed film and why.
SJ: Too many to narrow down to one. But I love the work of Dee Rees, Mira Nair, Greta Gerwig, Andrea Arnold, and Shalini Kantayya.
W&H: How are you adjusting to life during the COVID-19 pandemic? Are you keeping creative, and if so, how?
SJ: Underneath all the characters, I'm kind of an introvert, so I've been relishing having more time to myself, and creatively, I've experimented with everything from an Instagram Live show where I greenlit myself to improving my ventriloquism so I can sit on a Zoom and still have side conversations.
W&H: The film industry has a long history of underrepresenting people of color onscreen and behind the scenes and reinforcing — and creating — negative stereotypes. What actions do you think need to be taken to make it more inclusive?
SJ: It starts from the top. The wildly overwhelming majority — yes, still — of true decision makers with greenlight power are cishet white men. And yes, there is a sprinkling of women, POC, and queer folks whom those same gatekeepers have allowed in, but that's not genuine equality.
Unfortunately, as we've all been saying, when you're used to having all the power, equality feels like a threat. But I hope folks keep waking up to the reality that Hollywood, which is a microcosm of the larger society, isn't sustainable as long as it refuses to evolve.