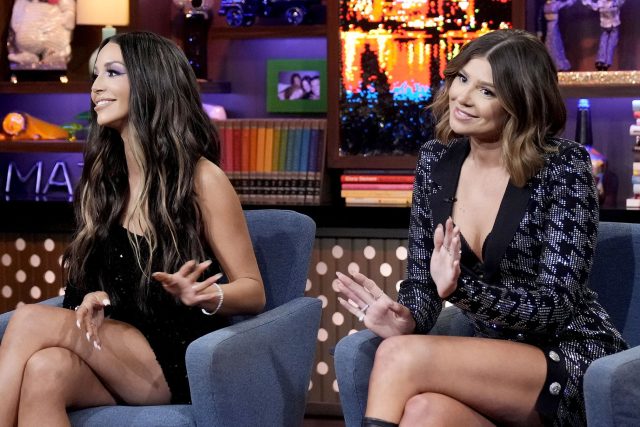 It is about to be on, Bravo viewers.
On the March 17 edition of her Shenanigans podcast, Scheana Shay told listeners that she has every intention of attending the upcoming Vanderpump Rules Season 10 reunion special.
Why is this noteworthy at the moment?
Because castmate Raquel Leviss was recently granted a restraining order against Shay.
In the legal documents that accompanied this restraining order request, Leviss alleged that Shay gave her a black eye as retribution for Leviss having carried on an affair with Tom Sandoval behind Ariana Madix's back.
Shay and Madix are close friends, you see.
And this whole thing is very messy and sordid.
Shay, however, is prepared to deal with the situation head-on.
"As far as I know, I'm fully intending on being there in person," the reality star revealed on Friday.
"I have no say over how this logistically works out — if it's Zoom, we also have another COVID test we have to be before the reunion.
"So that is not up to me whatsoever. I just wanna make that very clear."
If Shay does attend in person, Leviss will likely call in via Zoom … given that the aforementioned order of protection requires Scheana to stay at least 100 feet away from her rival.
In the wake of Madix breaking up with Sandoval — because she discovered intimate exchanges between her boyfriend and Leviss — Leviss said this month that Shay pushed her against a brick wall, "causing injury to back of head."
Shay has strongly denied this accusation.
"This case is a fabrication by a known liar and a cheat who has betrayed everyone close to her," Shay's lawyer said in a statement last Thursday.
"Scheana never punched Raquel, period.
"The supposed dark markings around her left eye have been there for months."
Shay's friends and co-stars have also come to her defense.
"I know Scheana was pissed off, but … Scheana cannot punch someone no matter how mad she is," former Vanderpump Rules cast member Kristen Doute said on Thursday's episode of the "Viall Files" podcast.
"It's just bulls–t."
A court hearing regarding the restraining order is set for March 29, six days after the reunion taping.
Earlier this week, meanwhile, Madix released her first statement since breaking up with her dishonest boyfriend.
"i know that i am not in this alone. so many of my closest friends are also grieving this loss right now and reeling from this betrayal on so many levels," she wrote on Instagram.
"i am so f—ing lucky to have the best support system in the world and i hope i can repay every single person for the love you have shown me.
"what doesn't kill me better run. love, ariana."