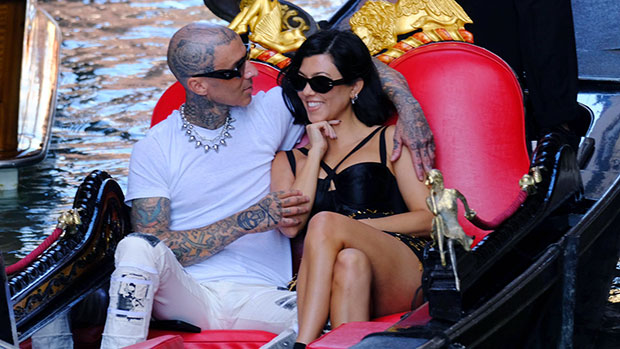 Kourtney Kardashian ditched the idea of a long gown for her wedding, and instead, she tied the knot with Travis Barker while wearing a white mini dress. The mom of three wed Travis in Santa Barbara on May 15, and she rocked a little white dress with a veil for the nuptials. In photos obtained by TMZ, which you can see here, Kourtney and Travis could be seen posing for photos in front of a convertible with a JUST MARRIED sign. Kourt's hair was pulled back into an updo, while Travis rocked all black for the occasion.
The wedding comes just over a month after Kourtney and Travis first tied the knot after the Grammys in Las Vegas on April 3. At the time, they weren't able to obtain a marriage license, so the marriage was not legal — until now! The two appeared to exchange their "I Dos" on the steps of a courthouse, according to TMZ. It's unclear whether any of Kourtney's famous family members were in attendance.
Kourtney and Travis' engagement aired on a recent episode of The Kardashians, and Kourtney knew even then that she was going to have a small wedding. While discussing plans with her glam team, Kourtney said it was "just going to be [her and Travis]" when they got married.
STORY DEVELOPING….