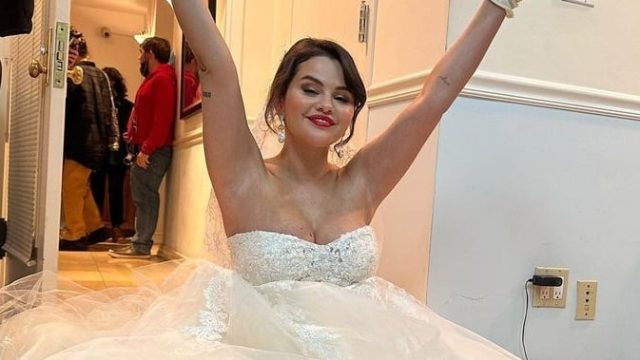 The once and present queen of Instagram, Selena Gomez is a businesswoman, a musician, and an actress.
At present, Hulu's critically acclaimed Only Murders In The Building is filming Season 3.
Selena plays one of the three leads. The others are Martin Short and Steve Martin. And the series is boasting an ever-growing list of big-name actors, from Paul Rudd to Meryl Streep.
This week, Selena filmed in New York. And she looked like the perfect beautiful bride in her wedding gown.
On Tuesday, March 21, Selena Gomez spent 2023's first full day of spring filming in New York.
The 30-year-old superstar wore a wedding dress. Plenty of people spotted her and her castmates in the street, albeit without context. Clearly, they filmed part of the episode outdoors.
With so many eyes already on the production, the cast opted to share their wedding day attire with the world over social media.
"Guess what just happened!" Steve Martin half-asked, half-prompted on Twitter.
He posted a photo of himself alongside Selena Gomez. Him, in a tuxedo. Her, in a beautiful wedding dress.
Steve didn't spell it out — he didn't need to — but the entire world immediately observed that he was serving Father of the Bride realness, as it were. That is one of his most iconic roles.
But he is not Selena's only co-lead. Martin Short also posed for a photo, showing his character's equivalent of wedding vestments.
Steve also posted their photo, this time captioning: "Turns out this happened, too."
They all look great. Though of course Selena's jaw-dropping beauty is all but impossible to miss in any photo.
We cannot say with any certainty exactly what Mabel Mora — Selena Gomez's character — is doing in this particular scene.
It seems unlikely that she is marrying either Steve or Martin's characters. For a lot of reasons.
Fans and viewers will have to wait and see as Season 3 airs on Hulu — some time later this year, one imagines. In the mean time, the show clearly doesn't mind letting us guess.
Steve, Martin, and Selena have all gushed about what it is like to work together.
Selena has praised the humility and kindness of the two comedic legends.
They, in turn, have gushed about her personality and talent. You love to see it.