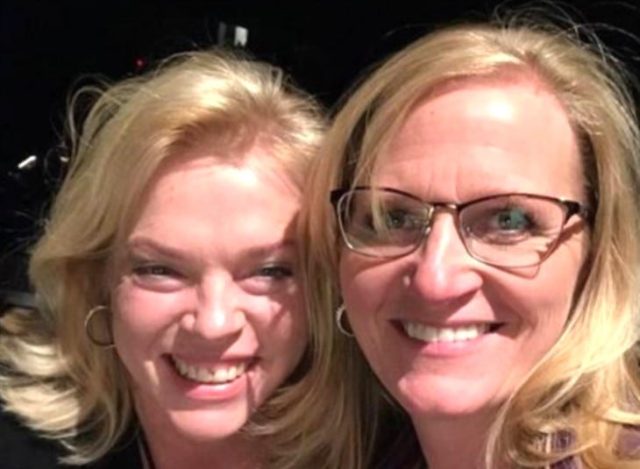 Sister Wives fans are trying to make their voices heard.
Once again.
A few months after many TLC viewers clamored openly for a Sister Wives spinoff that would feature Janelle and Christine Brown in their post-polygamous lives, many of these same fans are once again taking to social media.
The impetus behind their latest pleas to cable network executives?
Janelle uploaded a photo to Instagram a few days ago that featured many photos from Gwendlyn Brown's wedding.
Both Christine and Janelle were included in many of these photos, which prompted a bunch of observers to share comments that included:
"We don't want to see Robyn and Kody anymore. We want Christine and Janelle."
And also:
"Yesss… with Christine and Janelle's families only!!!"
Christine and Janelle have remained very good friends all throughout the run of Sister Wives.
They work at the same supplement company together as salespeople and they often take trips with each other.
Last month, the former spouses were reportedly in Nashville at a bar and trashing ex-husband Kody along with a couple other loved ones.
Both women, of course, walked away from Kody at various points over the past year and a half.
Back in February, an insider claimed to The Sun that negotiations were underway for some sort of show that centered on this friendship.
"They are working on it, that's for sure. It's in serious talks and development," a source told this outlet of Christine and Janelle getting their own series.
The Sun wrote that the spinoff would be about "life after polygamy" and "female empowerment," while adding that some of the children are "on board and all for it."
We've heard nothing concrete about these plans since, however.
If anything, we've heard the opposite.
Speaking to Variety in May, showrunner Chris Poole addressed the possibility as follows:
"Of course I would love to [do spinoffs] and I think people would love to see what happens to each one of them. But fortunately, we're in a place right now where we're covering that on Sister Wives.
"Nobody's disappearing from the show."
At least Poole hasn't nixed the idea for good, right?
And at least we know Christine and Janelle will continue to be prominent Sister Wives cast members for as long as the program remains on the air.
We just found out, in fact, that TLC has confirmed the premiere date of Sister Wives Season 18.
New episodes will return on August 20 at 10/9c. We can't wait!