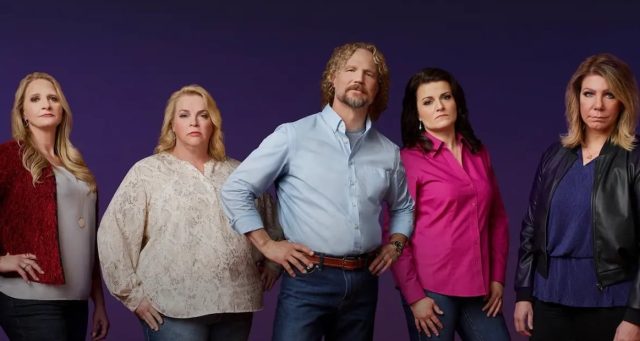 Sister Wives Season 18 is a go.
We know this much.
Heck, cameras were allegedly rolling back when David Woolley proposed to Christine Brown a few weeks ago.
But here's the question observers have as they await new episodes of the TLC reality show: How can Sister Wives continue… when Kody Brown no longer has any sister wives???
Christine left Kody in November 2021. Janelle left Kody just over a year later. Meri split from Kody this past January.
Only Robyn remains, and it sounds as if the couple won't be bringing in a new partner at any point.
"The other day, I introduced Janelle as my sister wife. I still use those words," Christine told Variety this week in a feature about the series, which previews Season 18.
"I think what people might think is still more interesting is how does the family actually work after somebody leaves? How do we manage the divorce with still having sister wives?
"So many people get divorced and work on their relationships with their exes and learn how to take care of kids together."
Christine emphasized in this same article that she plans to "stick" around and film the show for as long as it's on the air.
Variety wrote that it can "exclusively reveal that Sister Wives is officially returning for Season 18, during which the Brown family will navigate the highs and lows of family life in the wake of heartbreak and breakthroughs."
Said showrunner Chris Poole to this outlet:
"Christine leaving the family was a massive event that really shook up the entire family. But we've shot quite a bit of footage since then.
"It continues to be just as interesting and dramatic because, as much as Christine's left, Kody is still the father of her children. They still have to interact and figure that out."
Poole didn't shoot down the possibility of a spinoff someday, either.
A bunch of people out there would love to see a show about Christine and Janelle, and we previously heard the women were in negotiations.
We still may, too.
However, Poole isn't focusing on expanding the Sister Wives universe. Not yet anyway.
"Of course I would love to [do spinoffs] and I think people would love to see what happens to each one of them.
"But fortunately, we're in a place right now where we're covering that on Sister Wives,'" he says.
"Nobody's disappearing from the show."
So there we have it!
Look for new episodes of Sister Wives to premiere some time in late 2023.