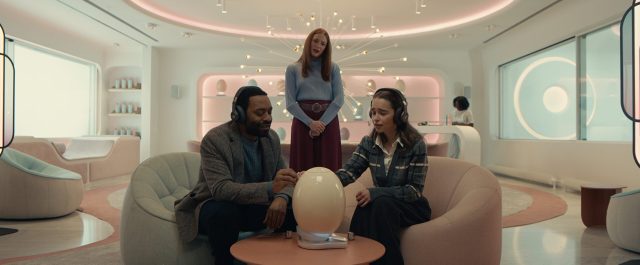 Emilia Clarke says goodbye to the distant past in King's Landing and hello to the near future in "The Pod Generation," a sci-fi story that sees the Emmy-nominated "Game of Thrones" alumna exploring fertility technology. A press release announced that Roadside Attractions and Vertical snagged North American rights to the Sundance winner.
Written and directed by Sophie Barthes, "The Pod Generation" is set in a world where "AI is all the rage and technology has trumped nature in nearly every aspect of life" and follows Rachel (Clarke) and Alvy ( Chiwetel  Ejiofor, "12 Years a Slave"), "a New York couple who are ready to start a family. As a rising tech company executive, Rachel lands a coveted spot at the Womb Center, which offers couples the opportunity to share pregnancy on a more equal footing by way of mobile, artificial wombs, or pods. Alvy, a botanist and devoted purist about the natural environment, has doubts, but his love for Rachel prompts him to take a leap of faith. And so, begins the wild ride on their tech-paved path to parenthood," the source teases.
"Sophie Barthes has an extraordinary ability to create films that use alternate realities to hold a mirror to the way we live now and where we may be in the not-to-distant future," said Roadside Attractions' Co-Presidents Howard Cohen & Eric d'Arbeloff. "Emilia and Chiwetel deliver incredible performances balancing humor and heart portraying a couple at odds with the path the Big Tech Overlords have set for them."
"The Pod Generation" premiered at Sundance in January and took home the Alfred P. Sloan Feature Film Prize. It's set to hit theaters this summer.
Clarke rose to fame playing Daenerys Targaryen in "Game of Thrones" and received four Emmy noms for her performance in the HBO hit. "Last Christmas" and "Me Before You" are among her other credits.
Barthes previously helmed features "Madame Bovary" and "Cold Souls."