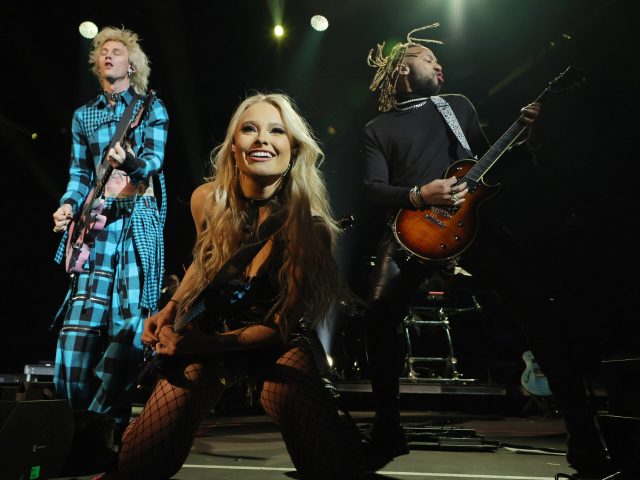 Amid rumors of their split, neither Megan Fox nor Machine Gun Kelly has spoken out in public.
But now Sophie Lloyd has done so.
The guitarist, who accompanied Kelly on his Mainstream Sellout Tour in 2022 and who played a concert with him this past weekend in January, has been accused of sleeping with the artist.
Various celebrity gossip outlets have claimed that Fox ended her engagement to Kelly a few days ago due to his relationship with Lloyd.
HOWEVER…
"Sophie Lloyd is a professional, accomplished musician who has been needlessly dragged into the media based off of meritless accusations made by social media," her management team told Page Six February 15.
"Any suggestion that she has ever acted in an unprofessional manner or stepped out of her relationship are untrue.
"It's disrespectful to her as a female artist and poor journalism and social commentary to be reporting anything else."
Earlier this week, Fox sparked speculation that she was done with her fiance after she scrubbed her Instagram clean of all Kelly references.
"You can taste the dishonesty/ it's all over your breath," the actress also wrote at the time, quoting a line from Beyoncé's 2016 track "Pray You Catch Me" from her album Lemonade.
In the comments section of this post, one follower suggested that Kelly was unfaithful in the relationship, writing, "He probably got with Sophie," an apparently reference to Lloyd.
In response, Fox quipped that it could have been the other way around, remarking: "Maybe I got with Sophie" alongside a single fire emoji.
Fox poured gasoline on her romantic fire by following Eminem as well, someone has publicly feuded with the Machine Gun Kelly for years.
Later that same day, she deleted her Instagram account entirely.
The stars — who met on the set of the independent film Midnight in the Switchgrass in March 2020 and got engaged in January 2022 — were spotted out together Monday in Agoura Hills, California.
"There are trust issues and this causes conflicts right now. Megan is taking one day at a time," a source has told People Magazine of where things stand.
Fox and Kelly have become known for their over-the-top public displays of affection… but also for their seemingly VERY strong attraction to each other.
"In July of 2020 we sat under this banyan tree. We asked for magic," Fox captioned an Instagram video of her boyfriend's proposal in January 2022.
"We were oblivious to the pain we would face together in such a short, frenetic period of time.
"Unaware of the work and sacrifices the relationship would require from us but intoxicated off of the love. And the karma."
"The Transformers star continued:
"Somehow a year and a half later, having walked through hell together, and having laughed more than I ever imagined possible, he asked me to marry him.
"And just as in every lifetime before this one, and as in every lifetime that will follow it, I said yes. …and then we drank each other's blood 1.11.22."
Fox has allegedly taken off her engagement ring, but not yet called off her romance with Kelly.
Meanwhile, Lloyd's friendship with the performer became a topic of conversation after she joined him on his aforementioned tour last year.
"Touring with Machine Gun Kelly was amazing," the YouTube star, who is dating Christopher Painter, told NME in November 2022.
"It was like one big family, and I felt so comfortable and safe from the get go. I also love how he uses his music to tell a story and portray a message."