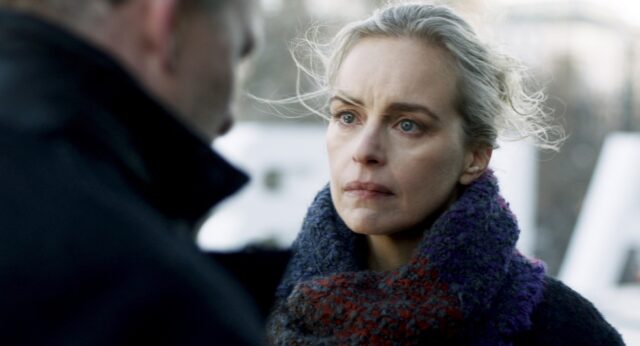 Stéphanie Chuat and Véronique Reymond's first feature, "The Little Bedroom," premiered at the 2010 Locarno Film Festival. Their other credits include "Open Book," a series broadcast in 2014 on Swiss and French Television, and "Ladies," a 2018 documentary that premiered at Visions du Réel Film Festival. Chuat and Reymond are also accomplished actresses and have performed in numerous Swiss and French theatrical productions.
"My Little Sister" hits virtual cinemas January 15. Switzerland submitted the film as its pick for the International Feature Film category of the 2021 Academy Awards.
W&H: Describe the film for us in your own words.
SC&VR: "My Little Sister" explores the invisible bond between adult twins. Sven is a famous actor, Lisa a brilliant playwright who has put her career on hold to raise her children. As her brother is diagnosed with severe leukemia, she questions her whole life, compromising even her marriage. Against all odds, the siblings manage to [channel] the possible separation into creativity, and Lisa reconnects to her own writing.
W&H: What drew you to this story?
SC&VR: The movie has several origins. We first wanted to broaden our horizon and work with non-French-speaking actors. There are some German, British, and American actors we dreamed to work with. Among them, the German star Nina Hoss, who we thought of since the beginning of "My Little Sister's" development. We then had the big chance to meet her casually in a boutique in Berlin. We approached her and asked her if she had time for a coffee with us. We gave her our number, thinking that she'd never call us back. But she did, and we had a very long coffee with her some days later.
During this conversation, Nina told us she was part of the Berlin Schaubühne theater company. As we are both actresses, we've known this prestigious theater and its artistic director, Thomas Ostermeier, for a long time. This was the trigger for us to bring her together with Lars Eidinger, the lead actor of the Schaubühne, as twin siblings.
With "Little Sister" we also wanted to explore a little-known aspect of Switzerland, the expats and the world of boarding schools. Then, when we discovered our common roots in theater with Nina, we had the idea to confront this closed world with the Berlin theater milieu.
At the core of the film is the twin siblings' bond. We've been an artistic duo for many years now and, more importantly, we have known each other since we were 10 years old. There is a lot of our own relationship in this story about twins. We share a world together that will no longer exist if one of us is gone.
W&H: What do you want people to think about after they watch the film?
SC&VR: As "My Little Sister" is an intimate family story, reactions might be slightly different according to each spectator's personal experience. But the themes are universal: it's about hope, love, identity, the meaning of one's life, the need for creativity. Everybody can connect with this story one a way or another and maybe identify with the characters. That's why we hope that "My Little Sister" will reach the heart of the audience.
W&H: What was the biggest challenge in making the film?
VR: One of the big challenges was the schedule of the actors. Due to their very busy agendas, we only had one day of rehearsal with Nina and Lars together before the shooting. We went through all their scenes and dialogue. But if this short rehearsal time went so well, it's because we had talked at length with them about their characters throughout the whole writing process, which took four years.
SC: And then there was the shooting itself. We did not have many days of shooting, but many scenes to shoot every day, including set changes within the same day. We did a series before this project with a really quick and tight schedule, and that experience helped us a lot for the shooting of "My Little Sister." With great actors such as Nina, Lars, Marthe Keller, and Jens Albinus, the text is already interiorized and you can quickly deal with the fine-tuning of inexpressible, non-verbal moves. It's a great joy for us to be able to work with such fine actors.
VR: Actually, every step of making the movie was really challenging! The editing wasn't a walk in the park either. We had a lot of rushes [dailies], and as the camera is handheld and very mobile, we never had two identical shots. So we had to go carefully through all the rushes to find the exact piece we needed. We knew them all by heart at the end of the editing.
W&H: How did you get your film funded? Share some insights into how you got the film made.
SC&VR: Even though our movie has two of the bigger German stars, no German money was found to finance it. We managed to have a support from ARTE, but the rest of the financing is completely Swiss. What helped a lot is a fund that was introduced in Switzerland a few years back: all the expenses made in Switzerland or with Swiss collaborators receive an additional 40 percent of the money. Without this new system that could replace exterior financial support, we're not sure that we would have managed to bring "My Little Sister" to life.
W&H: What inspired you to become a filmmaker?
SC&VR: We have known each other since our childhood. Both passionate about theater, we have worked many years in the theater scene, working as actresses in Swiss and French production. We have created many shows as a stage duo as well, and our first step towards cinema was by including video in our plays. This led us to write and direct four short films.
We then moved on to write and direct our first feature film, "The Little Bedroom," starring legendary French actor Michel Bouquet. It premiered at the 2010 Locarno Film Festival and was selected to represent Switzerland at the Academy Awards. "The Little Bedroom" was also honored with two Swiss Quartz Prizes (Best Fiction Film and Best Screenplay), and received a dozen awards in international festivals.
That movie was a real turning point in our lives. Since then, we have been active mostly in cinema and series. Acting remains at the center of our filmmaking, though, because all the projects we write and direct always place the actor at the heart of the story.
W&H: What's the best and worst advice you've received?
SC&VR: The best advice was to experience things rather than sticking to theory. When we were teenagers, we did a clown summer class in Paris. The last day of the workshop, the teacher told us, "Well, now, guys, it's time to go and test your clowns on the streets, in the real world." We were the only ones of the class to take it literally: we went to one of the most touristic areas of Paris, le Quartier Latin. Totally scared, it took us two hours to find the right place, then we put on our red clown noses on, and started to sing medieval songs. Nobody stopped to listen to us until one homeless person did, creating a big mess, and therefore forcing many people to gather by curiosity. But not for our performance! Nevertheless, at the end of the day, we had just earned enough money to send a postcard to our clown teacher. We made it!
Worst advice: When we were writing our very first script — that still hasn't become a movie yet — we worked with a producer who advised us to stop doing other things than developing this movie. At the time, we were actresses and were performing a lot on stage. We listened to him, and emptied our agendas, giving all our time to developing this project. But shortly after that, the producer dumped us and our script and we found ourselves left with nothing ahead. Since that happened we've always had two or three projects going on.
W&H: What advice do you have for other women directors?
SC&VR: As women in this industry, things are often more difficult for us because we always have to do more convincing than men need to, we have to insist a lot about the fact that our projects are worth being made. It is sometimes exhausting. But we always follow our guts first and trust our instincts, and we finally find ways to make our movies. So that's what we could advise to other women: Stick to your ideas and ideals.
W&H: Name your favorite woman-directed film and why.
SC&VR: We are very fond and full of admiration for Jane Campion and how she makes such wonderful films and series while staying faithful to who she is. She doesn't play any games of seduction — she just does what she has to do.
We also love the French director Maïwenn for her talent and courage in her choices of topics. "Polisse" is both a beautiful and powerful movie.
W&H: How are you adjusting to life during the COVID-19 pandemic? Are you keeping creative, and if so, how?
SC&VR: We are currently writing "Toxic," a series developed together with Swiss TV. It's an ecological drama combined with a family story exploring the consequences of a mysterious contamination of Lake Geneva in Switzerland.
"Toxic" questions everyone about their relationship with the environment and more specifically with water, a vital element for mankind. When we started developing it, we saw it as a kind of anticipation series, but with the COVID-19 pandemic, it seems to be quite a timely topic!
W&H: The film industry has a long history of underrepresenting people of color onscreen and behind the scenes and reinforcing — and creating — negative stereotypes. What actions do you think need to be taken to make Hollywood and/or the doc world more inclusive?
SC&VR: As European filmmakers, we can only talk about Switzerland, our country. Quotas were introduced a few years ago, and we see the effects of these quotas in the increasing numbers of projects carried on by women that get financed. There is an obligation to respect this parity, which is great. Nevertheless, we look forward to the day when projects will be picked up for their intrinsic qualities, and not for the gender of their creators.