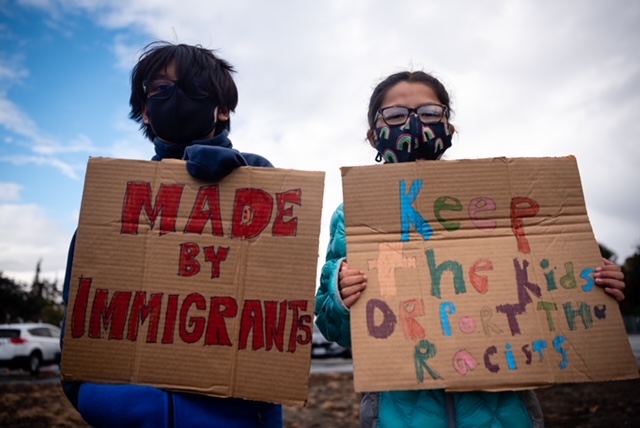 Linda Goldstein Knowlton is an Emmy-nominated filmmaker, working in documentary, scripted feature films, and television. Her award-winning documentary "We Are The Radical Monarchs"  premiered at SXSW in 2019 and was released on PBS in 2020. She produced the award-winning "Whale Rider" and "The Shipping News," and for her directorial debut she co-directed "The World According to Sesame Street," which debuted at the 2006 Sundance Film Festival and aired on PBS. Goldstein Knowlton directed and produced one of the six, Emmy-nominated documentaries for the "PBS MAKERS: Women Who Make America" series, and produced the documentary "Code Black," the basis for the CBS one-hour drama.
"Split at The Root" is screening at the 2022 SXSW Film Festival, which is taking place March 11-20. Find more information on the fest's website.
W&H: Describe the film for us in your own words. 
LGK: My intention with this film is to tell an intimate, personal story as well as proving context as to why so many people feel they have no choice but to leave their homes and find safety in the U.S.
Our story is being told by women on both sides of the contemporary immigration fiasco.
W&H: What drew you to this story? 
LGK: When I learned about the Zero Tolerance Policy being put in place in 2018 I, like many, were vibrating with rage.  And, like many, needed to do something in addition to flood my representatives with calls about needing to put a stop to this cruel and inhuman policy ASAP.
Well before I learned about the badass women of Immigrant Families Together, I signed up to participate in an act of civil disobedience with the organization Never Again Action to shut down the LA offices of The Geo Group, one of the two, major for-profit detention centers used by ICE.  I had the ability and privilege to put my body on the line, and I felt it was the least I could do; I was arrested with 20-plus others after successfully shutting down the offices and adding to the public pressure being put on lawmakers.
Marti Noxon, who I've known for 15-plus years and worked with on "Code Black," met with the co-founders of IFT around the time of my arrest.  She saw my post on Instagram and called me to say, "I think I have your next film.  The co-founders of IFT and several of the families they are working with want their stories told so that this ongoing story does not get lost in the chaotic news cycles of the Trump administration."  So here we are.
W&H: What do you want people to think about after they watch the film? 
LGK: The story of families separated at the border made headlines for weeks in 2018, prompting widespread protest and a change in policy. However, the thousands of people impacted by Zero Tolerance are still suffering the emotional, legal, and financial effects while pursuing asylum.
There are still over 303 parents separated from their children — and over 2,000 children whose reunification status cannot be accounted for. Even before COVID, asylum-seekers were given court dates in 2024, which have now been pushed into 2026. While our story starts during — and because of — the Trump administration, the stories of the families that IFT supports are still unfolding as Biden tries to reunite families while straddling the third-rail of U.S. immigration policy.
We hope the film will engage people and to show that every person can help to make change for another person — and get loud. What could help more than to keep the attention on the people our government flippantly created life-long trauma?
W&H: What was the biggest challenge in making the film? 
LGK: COVID, fundraising (exacerbated by COVID), and shooting safely in COVID.
W&H: How did you get your film funded? Share some insights into how you got the film made.
LGK: We were so fortunate to have true, deep support from Marti and Cold Iron Pictures.  The rest has been a combination of grants and equity investors.
W&H: What inspired you to become a filmmaker? 
LGK: It started with being a huge reader from a young age and loving stories and storytelling.  I had a little detour when I was pre-med in college but was brought back to storytelling when I got what I thought was a random job to be Jean Firstenberg's secretary — yes, this was pre-assistant days — at AFI in DC.
I started producing special events for AFI and continued doing that when I moved to LA.  That process immersed me into film and filmmaking, which brought me back to storytelling.
W&H: What's the best and worst advice you've received?
LGK: When I was producing scripted films, a much older, male producer told me I should be a director because I'm "bossy."
W&H: What advice do you have for other women directors?
LGK: Super simple: prepare, listen, manage people's expectations, and communicate those expectations clearly.
Be yourself. People can tell when you're being inauthentic and can make them feel less confident in doing their job.  Conversely, by being your true self, people will rise to meet you in your passion and commitment to the film.
W&H: Name your favorite woman-directed film and why. 
LGK: In 2019 we had our world premiere of "We Are The Radical Monarchs" at SXSW, and answered this question with Niki Caro's "Whale Rider." It is just too hard now to pick just one film, so I will say Sally Potter's "Orlando," Sarah Polley's "Stories We Tell," and Lynne Ramsay's  "Morvern Callar," which I coincidentally saw with Niki Caro when it premiered at TIFF!
W&H: How are you adjusting to life during the COVID-19 pandemic? Are you keeping creative, and if so, how?  
LGK: Well, we started making this film in 2019 and are just about to deliver the film to SXSW, so definitely keeping creative!
W&H: The film industry has a long history of underrepresenting people of color onscreen and behind the scenes and reinforcing — and creating — negative stereotypes. What actions do you think need to be taken to make it more inclusive? 
LGK: I feel like there should be a flow chart in every executive and agent's office for when it comes to giving a director their second film: they have another path to follow to see if they are giving BIPOC filmmakers and white filmmakers equitable opportunities for a green light.  Would be good to have this for first-time filmmakers, too — otherwise how will there be opportunities to make that second film?