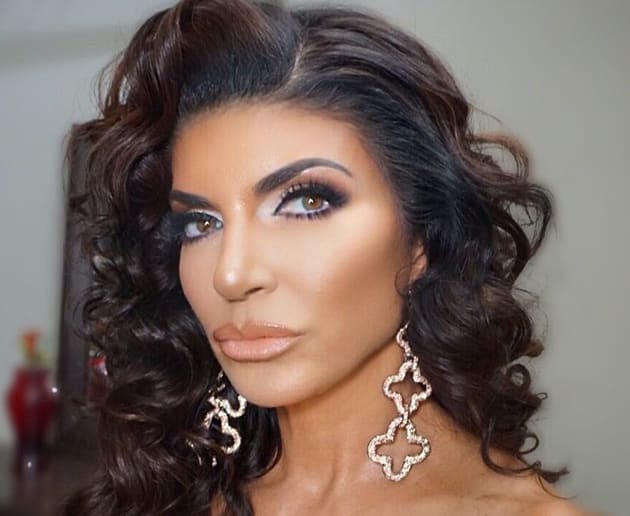 Teresa Giudice went at it hard with Jackie Goldschneider on this month's The Real Housewives of New Jersey premiere.

The castmates argued vehemently after Giudice accused Goldschneider's husband of cheating…. and Goldschneider responded by saying Teresa's daughter snorts cocaine.

Kind of. Sort of.

In reality, Jackie was just using a metaphor to throw Teresa's wayward, allegedly ridiculous allegation back in her face.

Since this premiere aired, most attention has been focused on Goldschneider's perhaps misguided response, wiith young Gia Giudice even stepping up to offer a statement.

But one thing appears to have been missed amid the scandal:

What the heck was Teresa talking about?!?

Giudice kicked off the program's aforementioned Season 11 premiere by spreading a rumor that she supposedly "heard" about Goldschneider's husband Evan sleeping around.

Except Page Six claims Teresa did hear this speculation from anyone.

She invented it out of thin air, according to this outlet.

Why would she do such a thing?

It's not as if storylines aren't scripted all the time on this franchise, but this one is a little different.

Producers didn't merely amplify an issue that already existed between colleagues; one star seemingly just made something up to spark a fight and put herself front and center.

The reason, a Page Six source alleges, is because Giudice fears she'll be axed later this year.

Explains this insider of Teresa:

"She's being watched by the network and needed a story to stir the pot. She had zero proof [that he cheated] and made up the story because Bravo has been getting rid of original Housewives.

"[She's] too expensive and they can filter through different women.

"She's desperately trying to stay relevant."

Giudice has been a prominent member of the cast since the show first aired in 2009.

Through her admittedly shady and illegal actions, Teresa was the main focus of The Real Housewives of New Jersey back after she got out of jail for bankruptcy fraud.

At that time, then-husband Joe was headed for the slammer and Giudice had a story to tell about being a single mother and an ex-convict.

Now, however?

Teresa and Joe are divorced and on decent terms, which isn't very interesting from a series point of view.

This may explain why Giudice just bought a mansion with boyfriend Luis Ruelas and may soon get engaged to him.

She needs to give executives more fodder, you know?

Lest she get left behind.

"Teresa is the highest paid Housewife," Page Six adds.

"If they get rid of her, it's because they pay her too much and her act is no longer worth it, but she's been a franchise favorite forever."

Could this really happen?

The veteran star's lawyer, James J. Leonard Jr., spoke to this same publication and scoffed at the possibility.

"The core principle of reality television is authenticity, and I don't believe there has ever been a more authentic Housewife than Teresa Giudice, and there never will be," he says.

"She is without peer in what she and her family have shared with the cameras over the years.

"When you are as real and authentic as Teresa has been, you don't need to pull stunts or manufacture story to be relevant and that is ridiculous for anyone to suggest otherwise."