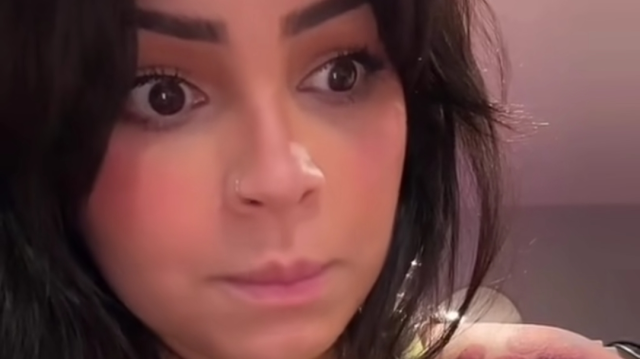 Last year, Tiffany Franco finally resolved to divorce Ronald Smith.
But leaving her toxic ex was no simple matter. These two broke up bitterly and very publicly, only to reconcile. Again and again. And again.
The fact that Tiffany returned to South Africa last year, only to discover that Ronald was two-timing both her and his girlfriend, caught viewers off-guard.
Tiffany says that she can explain why she gave him that final chance. But it's not a very healthy motive.
Tiffany Franco took to Instagram this week to confess something.
On the one hand, it is the answer to a question that many fans have had for many months.
But at the same time … some thoughts should just remain private, you know? Not everything needs to become a confession. Not even in the age of social media.
On the Instagram video, Tiffany wrote a caption while her face reacted with well-deserved embarrassment.
"That one time I took my ex-husband back just to prove to his girlfriend that he liked me more," she wrote.
Tiffany, no! That is a terrible motive for that kind of life decision, even if you don't have kids! And you have two!
"Looking back at it all I feel so stupid lol," Tiffany wrote in the caption beside her post. Yes. Very.
She then invited her fans, followers, and detractors to "use the comment section to roast me."
Perhaps Tiffany just wanted to share this confession to get closure. Maybe it was just bait for social media engagement.
Or … maybe Tiffany wanted to take charge of the narrative in some small degree.
"Woman unwisely reconciles numerous times with ill-behaved manchild" is not a great look.
While "woman reconciles with him this last time to prove a point to another woman" sounds deeply petty, Tiffany might feel that it casts her in a different light. Or, at the very least, that it makes a jab at Ronald.
According to Tiffany's previous statements, she arrived in South Africa to see Ronald and to bring their daughter, Carley, to visit him.
Fan-favorite son Daniel did not join her this time. Daniel is older, and though he has bonded with Ronald, one assumes that he has picked up on their dysfunctional dynamic. (Also, you know, he has school and stuff)
It wasn't just a custody visit with their young daughter, though. Tiffany and Ronald were giving their marriage an unbelievable, unjustifiable new chance.
According to Tiffany, she had only just arrived in South Africa when she ended up speaking on the phone with Ronald's girlfriend. Whoops!
The girlfriend had believed that Tiffany was only there to bring Carley for a visit. That Tiffany was staying with Ronald's mom. That's not the truth — because Tiffany had been sharing a bed with Ronald (her husband).
Though Tiffany remained in South Africa for months after this, the marriage ultimately did not survive. Thankfully!