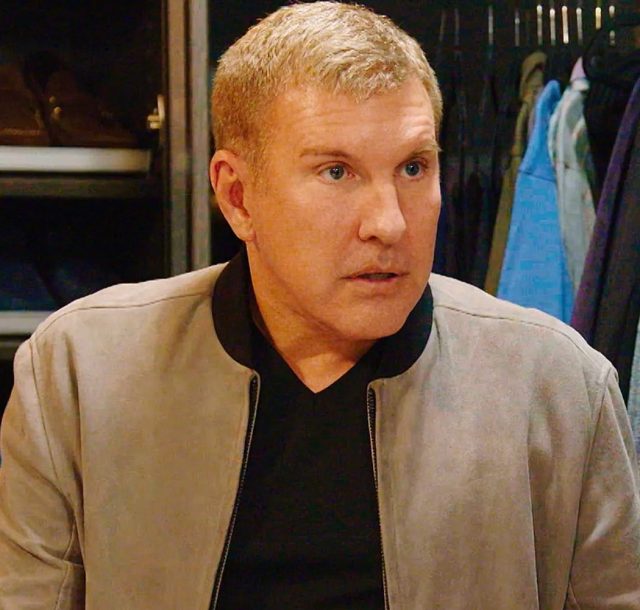 Todd Chrisley would like you to break out a very tiny violin.
The disgraced reality star, who was sentenced to 12 years behind federal bars in November due to his role in multiple financial fraud schemes, is reportedly unhappy in prison.
According to Todd's lawyer, who spoke to TMZ on Thursday, Chrisley is being mistreated as an inmate at FPC Pensacola in Florida.
The alleged reason for this mistreatment?
Chrisley's celebrity status.
The attorney, Jay Surgent, says someone took a photo of Todd while he was sleeping.
He also claims that Chrisley's mail is getting destroyed before Todd has a chance to see it.
Surgent went on to tell TMZ that Chrisley's living conditions are plagued by bad plumbing… possible mold… and no air conditioning.
He also claims his wife Julie's struggling with similarly awful conditions over at FMC Lexington, Kentucky where she's serving her seven-plus-year sentence.
Todd and Julie, who have been married since 1996, were engulfed in a weeks-long trial that ended in June 2022 when they were convicted on tax evasion, bank fraud and conspiring to defraud the IRS.
Prosecutors alleged at the time that the wealthy reality stars used falsified documents to obtain $30 million in bank loans… and then defaulted on more than $20 million in debt when Todd Chrisley declared bankruptcy in 2012.
They also concealed millions of dollars from the IRS that they had earned from the aforementioned program.
Todd's lawyer says he's gonna file paperwork to get his client moved to a different facility, but it's unlikely this request will be granted.
On the latest episode of her Unlocked podcast, meanwhile, Savannah Chrisley and her brother, Chase, alleged that their parents are currently dealing with extreme heat, black mold and even — in Julie's case — snakes next to her bed.
Yes, SNAKES.
"Mom has rattlesnakes just casually slithering on the floor in front of her! " Savannah said on air.
Added Chase:
"It's a nightmare, it's awful. Now they both have no air conditioning. [Todd and Julie] are both in states where it gets to be 100+ degrees and there's no air conditioning."
In January, prior to entering the prison system, Todd seemed confident that God will set him free.
Along these lines, his kids emphasized on the aforementioned podcast that their parents are appealing their conviction and recently sought new legal representation.
"They're putting one foot in front of the other," Savannah said.
"So they're not giving up, there is no admission of guilt … Since the beginning, they've always, always said [that they're innocent].
"At the end of the day, I want mom and dad home."