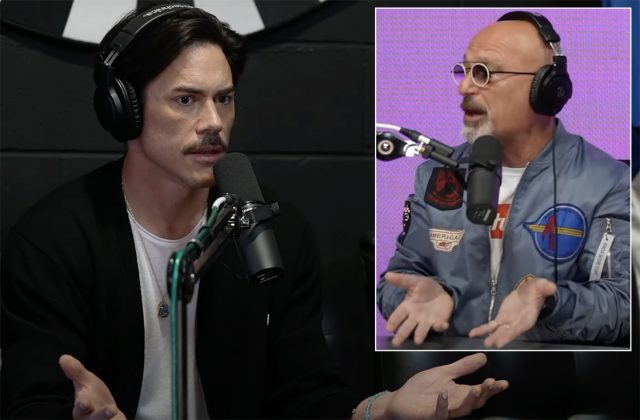 Could Tom Sandoval really have just written his own ticket off Vanderpump Rules and away from the Bravo universe?
That's what some insiders are saying right now as fallout is still flying in from his disastrous podcast interview with Howie Mandel. Wouldn't this be a wild development, y'all??
As we've been reporting, the 39-year-old restaurateur popped up on Howie Mandel Does Stuff for a chaotic interview on Tuesday. The duo talked about a lot during their 80-minute long discussion on Tom's months-long affair with VPR castmate Raquel Leviss behind then-girlfriend Ariana Madix's back. The interview was quickly pounced upon by Bravo fans and longtime VPR viewers. Along with criticizing Tom, they also slammed Howie for failing to grasp the severity of the affair and ask smart questions.
Related: Tom Tries To Sugarcoat His Cheating Scandal By Saying WHAT About Ariana?!
But Mandel's interviewing technique isn't even CLOSE to the biggest problem the TomTom co-owner has right now!! According to a source who spoke to The US Sun on Tuesday afternoon, the Missouri native's decision to go on Howie's podcast in the first place could have some very serious consequences for his television career!
The outlet cited "an insider" who divulged jaw-dropping details about how Bravo executives feel about Tom telling his side on Mandel's show. According to that source, the network "had no idea" Sandoval would be speaking about Scandoval on a non-Bravo vertical like Tuesday's interview venue. The source said:
"[Bravo] had no clue he was doing this. Of course not. They never would have allowed it."
Well that's not good. And it gets worse! According to the source, producers are "so f**king pissed" at Sandoval because he has wasted all their hard work to make must-see TV happen with the forthcoming VPR reunion episode!!
The insider explained:
"They're putting so much time and energy into making sure the rest of the season is better than any other season and hyping up the reunion. So, him pulling this bitch move is basically producers' worst-case scenario."
Yikes. Having producers call your interview decision a "bitch move" is not a place you want to be in as a reality TV star. They control your edits! And thus the angle of your career! Tread carefully!!!
Related: Tom Schwartz Claims His BFF Is 'Addicted' To Raquel Leviss…
The insider also added a note about how Tom doing an outsider's show has quickly become personal for producers:
"Him doing this is a big 'f**k you' to all of them."
Oof.
It's not even just the fact that the Tom Sandoval & The Most Extras frontman did the interview. It's equally as bad that he never gave anyone at Bravo a heads-up that he was going on the record in the first place!
Andy Cohen's production team only found out about Sandoval going on Mandel when the 67-year-old host first announced the big get on Monday. Since then, per the source, Bravo staffers have been in panic mode:
"They've been freaking out and basically scrambling since. They have no idea what he is going to reveal so they're watching it in shock along with the fans."
But what will come of this, tho?! After all, the Tom-Ariana-Raquel storyline is getting a TON of eyeballs on the Vanderpump Rules universe. Literally everybody is commenting on it! And the reunion ep will be edge-of-your-seat stuff when it airs. But with Sandoval pouncing on interviews like this, he risks devaluing Bravo's big reveal before it comes out. Not great!
For now, the insider notes it is still "unclear" whether Tom will face consequences for Tuesday's interview. However!!! The source did add this shockingly cryptic closer:
"No one on the cast would be shocked or upset if he was fired."
DAMN!!!
Could they really fire Tom for jumping Bravo's publicity guns on this one? Even if they could, would they?! Maybe after this season…
Sound OFF with your take on this shocking development down in the comments (below), y'all…
[Image via Howie Mandel Does Stuff/YouTube]