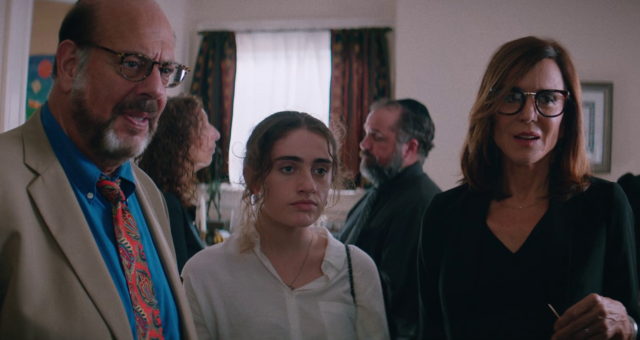 From the moment Danielle (Rachel Sennott) arrives at a shiva, everything that could go wrong does go wrong. A trailer has dropped for Emma Seligman's "Shiva Baby" and promises tons of awkward conversations, social faux pas, inappropriate outbursts, and, of course, food.
"You can't just like show up to like the after party for a shiva, and like reap the benefits of the buffet," Danielle's ex Maya (Molly Gordon) snipes. Danielle also has the misfortune of running into her current sugar daddy (Danny Deferrari) and his wife (Dianna Agron) and child.
Everyone else, including her parents (Polly Draper and Fred Melamed), want to know what Danielle, a soon-to-be college grad, plans to do with her life. "Sweetheart, feminism isn't exactly what I'd call a career," her father remarks. "It's not my career, it's a lens!" she snaps back. Other shiva guests chime in with questions and comments about Danielle's job prospects, love life, and weight.
"Shiva Baby" is based on Seligman's short of the same name, which premiered at SXSW 2018 and went on to screen at other fests. The feature version has played at TIFF, Outfest, and more.
"I always found shivas to be the most humorous family events," Seligman told us. "Despite the fact that someone had just died, people still ate bagels, complained, showed off their children, and crossed boundaries. I always loved that contrast and thought a shiva would be a perfectly anxious and hilarious setting for an insecure young woman to lose her mind in."
"Shiva Baby" hits theaters and VOD April 2.