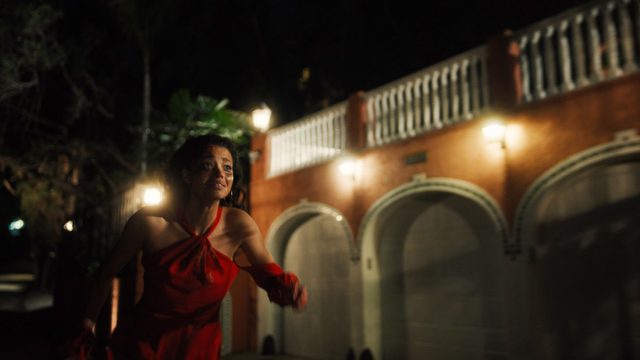 Best known for her ass-kicking roles in Elizabeth Banks' "Charlie's Angel's" and Netflix's "Resident Evil" series, Ella Balinska finds herself in mortal danger in "Run Sweetheart Run," a thriller from "Country Strong" writer-director Shana Fest. A trailer for the pic introduces Cherie (Balinska), a single mom who is set up on a date with Ethan (Pilou Asbæk, "Game of Thrones"), one of her boss' most important clients. As is the case in Mimi Cave's "Fresh," a dreamy date takes a sinister turn and Cherie is left fighting for her life. "The only thing that matters now is our game," Ethan tells her. "I'm going to hunt you, and if you make it through the night, then I'm going to let you live."
While Cherie initially comes across as something of a damsel in distress, it's not long before she's channelling her inner action hero. She also finds support from another woman who was terrorized by Ethan and lived to tell the tale.
"I was really inspired by 'Get Out,'" Feste told us. "I found it an interesting challenge to think of what the equivalent of 'Get Out' would be for a woman. If one of the most terrifying experiences for an African American man is going home to meet his white girlfriend's parents, then one of the most terrifying experiences for a woman is trying to get home by foot after a bad blind date. I wrote it from an angry place, which I usually don't do, but I had just had a daughter and I was feeling overwhelmed by the thought of her experiencing the same harassment and violence that I experienced being while raised in Los Angeles."
Asked what she'd like people to think about after watching the film, she said, "I want people to think about the daily challenges women deal with when facing the patriarchy. It's life-threatening in this film, but there are smaller experiences that I tried to capture – experiences with advertising, Uber rides, pet names, and work environments — that can also be suffocating."
Feste's other films include "Boundaries" and "Endless Love."
"Run Sweetheart Run" hits Prime Video October 28.