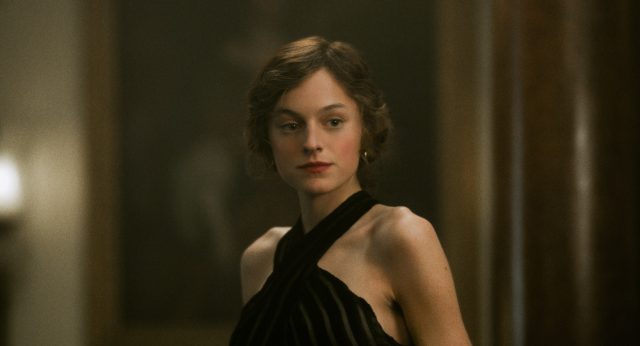 "It's amazing isn't it? How someone can get so into your blood," says Emma Corrin in a new trailer for "Lady Chatterley's Lover." The Emmy-nominated star of "The Crown" toplines Laure de Clermont-Tonnerre's adaptation of D.H. Lawrence's controversial 1928 novel.
The film follows Lady Chatterley (Corrin), the former Constance "Connie" Reid, whose marriage with her Baronet husband Sir Clifford Chatterly (Matthew Duckett) begins to feel like a prison for the young woman. Despite the luxurious trappings of nobility, Connie grows more and more disaffected with Sir Chatterley after he is paralyzed waist-down by an injury sustained in WWI. 
As the caretaker of her ailling husband, Connie must choose between her spousal duty and the fulfillment of her own carnal desires. "Connie is exhausted," Sir Clifford is told in the trailer. "Who do you think is taking care of her while she's taking care of you?" 
When Connie meets Oliver (Jack O'Connell), the gamekeeper of their country estate, the two engage in a torrid extramarital affair. "Their secret trysts lead her to a sexual awakening. She faces a decision: follow her heart or return to her husband and endure what society expects of her," the film's synopsis teases.
"I've had enough of gentlemen," Connie declares in the trailer, which sees her reclaiming control of her sex life. The spot also explores the risks associated with an interclass relationship between an aristocrat and a working class person in a socially stratified 20th century England. 
Best known for playing Princess Diana on British monarchy drama "The Crown," Corrin's latest project, "My Policeman," launches on Prime Video today, November 4. The queer drama follows three people embroiled in a love triangle during 1950s Britain, when homosexuality was still illegal.
Clermont-Tonnerre made her feature debut with 2019's "The Mustang," a drama about a convict who trains wild mustangs while participating in a rehab program. Her TV directing credits include "American Crime Story," "Mrs. America," and "The Act." 
"Lady Chatterley's Lover" hits theaters November 23 and will be available on Netflix December 2.