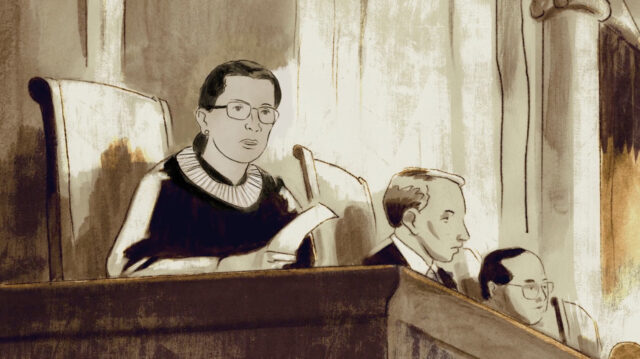 "I did very well in law school. It was not possible to do much better," Ruth Bader Ginsburg reveals via archival footage in "Ruth: Justice Ginsburg in Her Own Words." "There was not a single law firm in the whole city of New York that would invite me to come even for an interview. I suspected the door was closed because of my sex." A trailer has arrived for Freida Lee Mock's new documentary, which traces the obstacles RBG faced in the beginning of her career as well as the feminist icon status she achieved before her death in September.
Being Jewish, being a woman, and being a mother held Ginsburg back in her early days as a lawyer. Yet she prevailed, serving as a litigator for the ACLU's Women's Rights Project, arguing historic cases before the Supreme Court, and making it to the Supreme Court herself. She held the latter post for 27 years.
"Ruth" "dramatizes a confluence of factors – personal, psychological, social, and political that impacted the course of her work and life," a press release teases. "The film is designed as an immersive experience through the direct words of Ruth Bader Ginsburg as a professor, advocate, Judge, and Justice." It features "evocative animation and intimate illustrations to visualize complex constitutional cases" and interviews with "colleagues who have directly worked with or have been impacted by her 40 years as a legal icon."
Ginsburg has previously been the subject of a documentary, Julie Cohen and Betsy West's "RBG," and a biopic, Mimi Leder's "On the Basis of Sex." The former chronicles Ginsburg's professional and cultural impact, and the latter focuses on Ginsburg as a young lawyer, and her role in a landmark sex discrimination case.
A five-time Oscar nominee, Mock took home the Best Documentary Feature award in 1995 for "Maya Lin: A Strong Clear Vision," a portrait of the designer of the Vietnam Veterans Memorial in Washington, D.C. She also received nods for "Sing!," "Never Give Up: The 20th Century Odyssey of Herbert Zipper," "Rose Kennedy: A Life to Remember," and "To Live or Let Die." She scored an Emmy for exec producing "Lillian Gish: The Actor's Life for Me."
"Ruth: Justice Ginsburg in Her Own Words" hits virtual cinemas February 12 and will be available on VOD March 9.