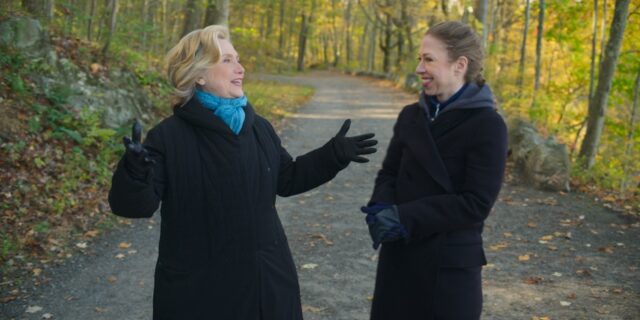 Hillary Clinton and her daughter, Chelsea Clinton, want to "shine a light on women who inspire us to bolder and braver," "women who push us outside our comfort zone and make us laugh." The duo travel the world and interview the likes of Dr. Jane Goodall, Gloria Steinem, Wanda Sykes, Amy Schumer, Megan Thee Stallion, and tons of other women blazing trails in activism, community leadership, art, environmental justice, and much more, for their new docuseries, "Gutsy." The Clinton women host and executive produce the show, which just released a trailer.
The women spotlighted in "Gutsy" talk about everything from incarceration, to racism and race relations, to the art of punching up in comedy. "Speak truth to power," Sykes says in reference to the latter. "When I throw rocks, I'm throwing them up."
One subject speaks about how her mother "needed rehabilitation, not prison," while another comments on the lack of empathy or interest white folks display toward the Black community. "I have a Master's in whites, I just want whites to get a GED in Blacks," she says.
"Gutsy" is based on the Clintons' bestseller "The Book of Gutsy Women." The mother-daughter duo are set to discuss the "Gutsy" series at TIFF's Visionaries conference September 10.
A film adaptation of "State of Terror," the political thriller Hillary Clinton wrote with Louise Penny, is in the works. Hillary Clinton is the subject of Nanette Burstein's Hulu docuseries "Hillary"; has appeared as herself in projects such as "Broad City" and "Madam Secretary"; and was recently portrayed by Edie Falco in "Impeachment: American Crime Story."
Chelsea Clinton has penned children's books including "She Persisted: 13 American Women Who Changed the World," "She Persisted Around the World: 13 Women Who Changed History," and "Grandma's Gardens." She collaborated with her mother on the latter.
"Gutsy" premieres September 9 on Apple TV+.