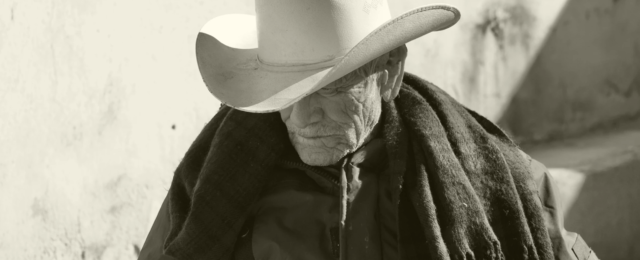 "Life's catching up with me." Shirtless and laid bare in a symbolic display of openness and vulnerability, Julián Moreno speaks to his granddaughter as they so often have for several years – with him in front of the camera, and her behind it. "I never thought I'd live this long," Julián continues, detailing how he asked God in his younger years to prevent him from aging beyond 50 years old. "He didn't want to, though. He made me keep going."
This simple, sensible account of a ruefully stubborn man embodies the story his granddaughter, director Iliana Sosa, sought to tell from 2014 to 2019. A quiet, hauntingly intimate study of a close-knit family whose livelihood and lineage exist inextricably on both sides of the U.S./Mexican border, Sosa's "What We Leave Behind" blends wry humor and somber stillness that invites audiences in and compels them to take a seat at the dinner table.
The film follows the stalwart Julián Moreno, 89, on his quest to build a new house on his land in Durango, Mexico. His vision isn't only to expand the dwellings on his property, but also to provide for his family a tangible asset that lasts long after he is gone.
It's a common desire for many parents, and certainly one Julián doesn't take lightly as he grapples with his mortality. His monthly treks between El Paso, Texas and Durango – a tradition spanning decades – have come to an end. As he oversees this ambitious homestead project, even in the face of mild skepticism and concern from his family, it's clear early on that he will not be dissuaded by anyone from crossing his self-determined finish line. They're just going to need to get with the program. And they do, albeit reluctantly, with many laughs and much love along the way.
Sosa, in her ability to be both a proverbial "fly on the wall" and an active participant in familial conversations, draws out a plethora of stories and perspectives from her elders. With a fresh take on the traditional cinéma vérité style, she leans into the silences that culminate when one of her family members is transported back in time. Alongside her protagonists, the audience is immersed in the quiet, gentle recollection of moments from the distant past. With less tension and conflict, and perhaps more longing and nostalgia, her family members answer her questions earnestly, even when it appears there are details, memories, and thoughts that are better left unsaid. Sosa's subjects are compelling, yet unassuming and unpretentious, characters who are just going about their daily lives, serving their family unit to the best of their individual capacities.
"As a child of Mexican immigrants, I take pride in connecting with my community – not only at a linguistic level – but also culturally," Sosa told Documentary.org. "I love being able to capture the faces and traditions of the people that raised me and I grew up with. It's a source of immense joy for me to be able to showcase their beauty and resilience."
In a brief chat with Women and Hollywood, Sosa explained the learning curve associated with tackling her passion project as a solo artist. "I essentially learned how to make a documentary in the process of making this film," she said. "I had done a short doc before, but this was my first feature documentary."
At first, in those early days of production, Sosa was responsible for producing, directing, and filming the documentary. She explained how she later hired a cinematographer, which allowed her to be more present as a director during the interview process, and to let those trademark silences in the film play out naturally. She found that her success derived from trial and error: "It just takes time, practice, and patience."
As both a filmmaker and a family member, Sosa wore multiple hats while she finalized narrative decisions with her editor, Isidore Bethel. "I definitely felt a huge responsibility to make sure I was honoring my grandfather's story," she said. As evidenced by the long-form portrait of her grandfather's house-building mission, Sosa described how she's drawn to "characters who forge their own path and live life by their own set of morals."
Moving forward, Sosa hopes to further blend cinematic storytelling styles. "I love mixing doc and fiction," she noted. "I hope that in my future fiction work, I can bring some of those documentary elements."
Sosa is based in Austin, Texas, and the current political climate regarding immigration, women's rights, and trans rights have weighed heavily on both her and fellow creatives living in the state. "I think it's such a seminal moment right now," she said. "It's disheartening, everything that's happening here, politically and socially. But I think it's even more important to be storytellers in this state. I find inspiration by being here. It's hard to separate your everyday life from what's happening politically. So, naturally, that is going to influence your work and inspire it."
Sosa's pragmatic perspective is still imbued with hope, as well as a steely resolve for the future. "I'm a filmmaker, but inherently I feel that that's also political, just by the nature of who I am and how I grew up," she explained. "It's important to keep moving forward and to keep expressing our stories, and not be intimidated by what's happening around us politically or socially."
In addition to its world premiere at SXSW later this month, "What We Leave Behind" will also screen at the Phoenix Film Festival, a premier film festival in a state that also grapples with its own complex civil and immigrant rights history.
Upcoming Screenings:
March 11, 12, 16 – SXSW – Austin, TX
March 12-14 – SXSW – Virtual
April 1, 3, 7 – Phoenix Film Festival – Phoenix, AZ
Keep an eye out for Women and Hollywood's SXSW Q&A with Sosa for more details about "What We Leave Behind" and insight into her filmmaking process.
---
Under the Radar offers a chance for us to highlight works by and/or about women that haven't received big releases or significant coverage in the press, but are wholly worthy of attention.