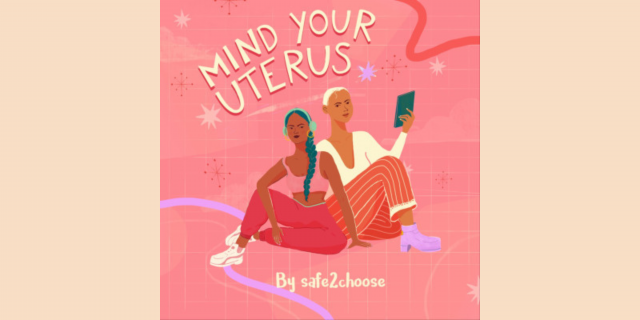 Abortion is "so much more complicated than the stereotypes." This sentiment, expressed by 2+ Abortions Worldwide founder Karen Thurston in the first episode of "Mind Your Uterus," perfectly encapsulates the podcast.
Created in 2021 by abortion counselling platform safe2choose as a means of demystifying abortion, "Mind Your Uterus" provides accurate information on safe abortion options through conversations with pro-choice guests from all over the world. By exploring the stigmas regarding sex, reproductive health, and multiple abortions, "Mind Your Uterus" and safe2choose "normalize the conversation on safe abortions, promoting a shift in the rhetoric around the matter, in a bid to create a community in which choice is celebrated and more importantly, nurtured," as they describe on their podcast. The program is hosted by Marie-Simone Kadurira, founder of Vasikana Vedu, a nonprofit that provides alternative sanitary products to folks with uteruses living in sub-Saharan African regions.
Although its first and — so far — only season was launched over a year ago, the topics and conversations broached on "Mind Your Uterus" are more pertinent now than ever in the U.S., following the overturning of the landmark Supreme Court case Roe v. Wade. The verdict of the Dobbs v. Jackson Women's Health case decided in June of this year grants states the discretion to set their own abortion policies, a ruling that's led to swift and severe restrictions on reproductive rights. "Tracking States Where Abortion is Now Banned," a resource from The New York Times, is regularly updated with each state's current policies as well as potential changes regarding access to abortion. As of September 23, abortion is fully banned in 14 states: Alabama, Arizona, Arkansas, Idaho, Kentucky, Louisiana, Oklahoma, Mississippi, Missouri, South Dakota, Tennessee, Texas, West Virginia, and Wisconsin.
That said, grassroots efforts mobilizing reproductive rights in states that have banned or severely restricted abortion are ensuring that the battle is far from over. As we've been following here at Women and Hollywood, a coalition of over 400 TV creatives are urging companies to protect pregnant employees in anti-abortion states. This coalition is now in talks with studios regarding their abortion demands, with discussion of a 24-hour hotline underway for those living in states where reproductive rights are severely restricted. As encouraging as these initiatives are, much more needs to be done to support folks seeking abortions. Podcasts like "Mind Your Uterus" provide listeners with factually accurate information, emotional support, and resources to pursue a safe abortion.
Season 1 of "Mind Your Uterus" focuses on stigmatization surrounding abortion and how it is expressed globally in multiple facets of reproductive health. Episode 1, "2+ Abortions with Karen Thurston," digs into the reality of having multiple abortions in a lifetime and how it has been attacked even by pro-choice supporters and abortion providers. After undergoing two abortions, Thurston recognized the social alienation and shame that comes from inadequate resources when navigating abortions. She also discusses the work of "2+ Abortions Worldwide," a curated archive of stories and resources for safe abortions.
Thurston recognizes that in many reproductive justice initiatives, "we often assume or imply that a person will only seek an abortion once in their lifetime. But the statistics show that that's not the case." Thurston and Kadurira combat falsely propagated notions that people who seek out more than one abortion are lazy, stupid, and careless. As Thurston explains, "Preventing pregnancies for 30 years of fertility is really hard and it's a gender-based burden that falls on people who can get pregnant."
Thurston's point segues to a discussion of language and the importance of being conscious of and intentional with verbiage when engaging in rhetoric, noting that much of the language that activists use to discuss reproductive health come from scientific research, but early iterations of abortion research used loaded terms such as "repeat abortions." She points out that the word "repeat" connotes a moral judgement — people do not typically label a second pregnancy or miscarriage a "repeat pregnancy" or "repeat miscarriage," for example. Kadurira emphasizes that "repeat" also presumes the situation surrounding each abortion is the same, when in fact each abortion that a person experiences is a unique, complex, and personal situation. Reasons for an abortion may be attributed to financial status, safety in a romantic relationship, physical health, mental health, personal preference, etc.
Language is a powerful tool and is also used by anti-abortion groups as a means of undermining a person's right to choose. However, just because someone is pregnant does not necessarily mean they are a mother or are equipped to raise a child. As mentioned in the episode, the potential of one's "maternal instinct" is overly-romanticized and often weaponized against women and people who are confident in their decision to terminate a pregnancy. Instead of overgeneralizing these situations, we must listen to the needs of those seeking abortions. They know their bodies best.
When it comes to language on the podcast, Kadurira practices what she preaches. She is particularly careful to not conflate gender with who is receiving abortions, using gender-inclusive terms, such as "women or people with uteruses," as the scope of reproductive health is not limited to cisgender women. Forcing a conversation into a gender/sex binary limits the nuances and complexity of abortion procedures and the reasons behind them.
Failing to consider the complexity of reproductive rights leads also to stigmatization and a more physically and mentally dangerous climate for everyone, but especially people who have undergone more than one abortion. Thurston and Kadurira discuss how multiple abortions are statistically underreported and that there are many instances when individuals did not return to a clinic for another abortion for fear of judgement by the healthcare professionals. Such feelings of shame can lead to dangerous at-home abortions or people proceeding with a pregnancy when not equipped to do so. This is becoming a grim reality in several states where accessing a safe and supportive clinic for an abortion is impossible.
In an 11-episode season that include a range of guests such as abortion providers, activists, and figures offering a global perspective on reproductive rights, "Mind Your Uterus" is dismantling shame around abortions and providing accurate, under-discussed information to potentially save lives. The podcast urges listeners to trust their inner wisdom and use resources recommended by inclusive pro-choice experts. These safe abortion advocates offer a fact-based alternative to the misinformed anti-abortion propaganda that remains all too common. "Mind Your Uterus" works to debunk dangerous myths — such as the idea that abortions decrease fertility — and instead supplies accurate scientific information and emotional support to listeners. This podcast is making safe spaces by approaching abortions with love and empathy rather than with judgement and fearmongering.
With a background in biology and political science, Kadurira actively engages with each guest, supplementing the conversation with her own knowledge and expertise. These 20-50 minute episodes create a welcoming environment to heal, learn, and connect with others in an otherwise isolating situation. The podcast does not impose a "right way of thinking," but rather invites a multitude of perspectives that can guide people to the resources they seek. In this time of national and global uncertainty in the realm of reproductive rights, "Mind Your Uterus" helps fill a cavernous information gap, empowering individuals to understand their options and reclaim autonomy when it comes to abortions.
Listen to "Mind Your Uterus" on Apple Podcasts, Spotify, or wherever you get your podcasts.
Resources:
Visit the "safe2choose" website for abortion care, information, and counseling.
Visit the 2+ Abortions Worldwide website for reproductive resources and an archive of stories from people who have sought out more than one abortion.
Stay current with your state's abortion policies by visiting the Center for Reproductive Rights' After Roe Fell: Abortion Laws by state or your country's abortion policies with the resource The World's Abortion Laws.
For more immediate attention, visit Planned Parenthood's abortion access resources.
---
Under the Radar offers a chance for us to highlight works by and/or about women that haven't received big releases or significant coverage in the press, but are wholly worthy of attention.