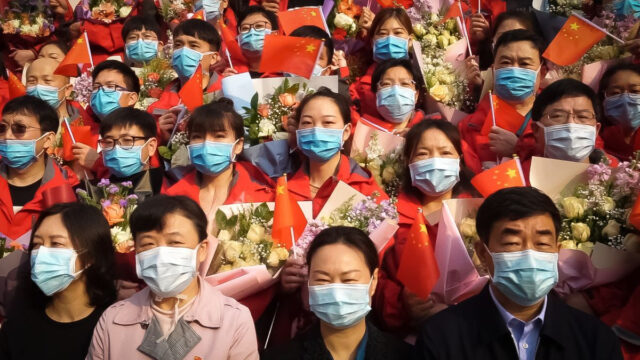 "Eight people were punished for spreading rumors about an unknown pneumonia," various anchors tell us over and over again, sharing a January 1, 2020 announcement from the Wuhan police. "A reminder from the police: Obey laws and regulations for online activities. Nobody can get away with spreading rumors online." A clip of Nanfu Wang's new documentary, "In the Same Breath," has arrived, presenting the dichotomy between the Chinese government's official stance on COVID-19 and the realities of the outbreak. The powers that be were saying everything was fine, that troublemakers were spreading lies online. But, as we know now, that was not the case.
The same day the eight doctors were punished, one of the doc's subjects, Liu, "visited four of the hospitals where the punished doctors had been working," we're told. "He was turned away from all of them." The narrator explains, "Many of the doctors of these hospitals must have known this new virus was spreading between people. But they were afraid to say so for fear of punishment from the government."
"In the Same Breath" made its world premiere yesterday at Sundance, and will be available on HBO and HBO Max later this year. According to a press release, the doc "explores the parallel campaigns of misinformation waged by [Chinese and U.S.] leadership and the devastating impact on citizens of both countries."
Wang won a Sundance Grand Jury Prize and scored Emmy, DGA, and PGA award nominations for her last doc, "One Child Nation," an exploration of China's controversial former one-child policy. Her other films include "Hooligan Sparrow" and "I Am Another You."
When we asked Wang why she decided to pursue filmmaking, she said, "Growing up in a rural village in China, I experienced poverty, a lack of educational opportunities, and the loss of my father at a very young age. All of these experiences made me want to tell stories that could be meaningful and create change."
Check out the "In the Same Breath" clip below. The doc will have a second screening at Sundance tomorrow, January 30.